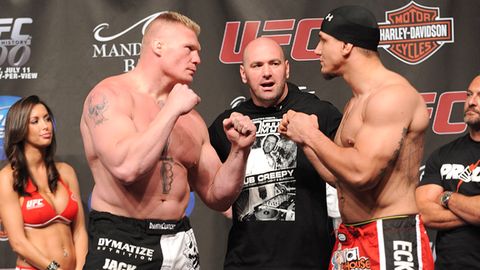 Martin McNeil for ESPN.com
One man's vote for the fight of the year: Brock Lesnar vs. Frank Mir at UFC 100.
Top 10 fights in 2009 from a DFW fan's perspective:
This fight probably wouldn't make a the list by an MMA fan outside of the Dallas area. But for local fans, this was the first time that we had a chance to see fighters of their caliber. Let's hope we see the Octagon back at the AAC very soon.
9. Fedor Emelianenko vs. Andrei Arlovski, Affliction: Day of Reckoning (Jan. 24)
I'm sure Arlovski is still regretting that flying knee to this day.
8. Gina Carano vs. Cris Cyborg, Strikeforce (Aug. 15)
This was the biggest fight in the history of women's MMA. Cyborg won the fight and was awarded with the first-ever women's 145 pound championship belt.
7. Jacob Ortiz vs. Will Florentino, SWC 9 (Nov. 28)
Without a doubt, this was the most exciting fight that I've seen in the state of Texas this year. Although Ortiz pulled out the win, both fighters gave it everything they had for five thrilling rounds. I look forward to seeing Ortiz vs Florentino II in 2010.
The "Machida Era" begins. Machida displayed his entire arsenal of skills in this fight, which was for the light heavyweight title.
This fight was important for a couple reasons. Although unsuccessful, Penn was attempting to be the first person to hold titles in two weight divisions simultaneously (lightweight and welterweight). It also made news for "Grease Gate" -- Penn claimed that GSP used Vaseline to make him more difficult to take down and control in the grappling game. GSP refutes the claim to this day.
4. Ben Henderson vs. Donald Cerrone, WEC 43 (Oct. 10)
This was the first WEC event for the city of San Antonio. This was a very fast-paced bout filled with transitions between the stand-up game and the ground game. Although the decision was controversial with Henderson winning the interim lightweight title, the fans were definitely entertained for all five rounds.
By far, this was one of the most thrilling heavyweight ights in the history of the UFC. Although Couture was resilient throughout the fight and put up a decent offense of his own, Nogueira ultimately dominated the stand-up and ground game to take the unanimous decision.
This has my vote for most exciting mixed martial arts fight for 2009. Guida vs Sanchez was an all-out war from bell to bell.
UFC 100 was quite a milestone for the sport of mixed martial arts. In order to cap off this momentous occasion properly, it's no surprise that the UFC decided to make Lesnar vs Mir the main event. Lesnar clearly proved that he is best heavyweight in the UFC after his dominating win over Mir. Now that each fighter has beaten the other one time, let's hope 2010 rewards us with Lesnar-Mir 3.