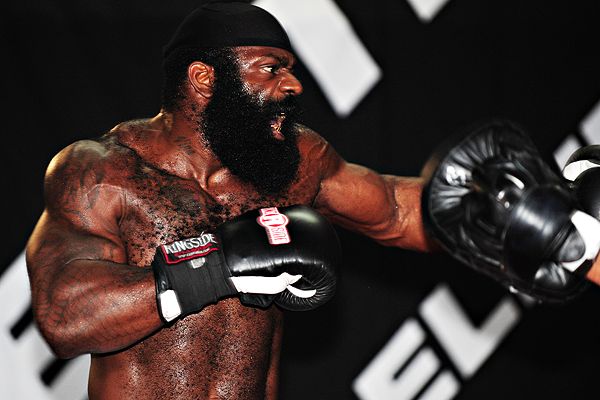 Robert Laberge/Getty Images

Who are we kidding? The main event for The Ultimate Fighter 10 finale on Dec. 5 is Kimbo vs. Alexander, right? I know. Saying that Kimbo is even in the same ballpark as Hamill or Jones (the main event) is tantamount to dancing on Helio Gracie's grave.
There is absolutely no doubt that both Hamill and Jones are more highly qualified mixed martial artists and deserve the top spot on the marquee. But this finale will probably be a record breaker for the television series, and it will have everything to do with MMA ratings monster Kimbo Slice (Kevin Ferguson). Ferguson was a headliner of several events with the now-defunct EliteXC organization in which the shows all ranked amongst the most watched MMA events in television history.
With Kimbo bringing a large fan base to TUF 10, it was no big surprise that his bout against Roy Nelson was the most-watched episode in the show's 10 seasons. At one point, more than 4 million viewers were watching his bout against Nelson, which easily beat the previous highest-rated show in the TUF 3 finale (2.8 million viewers).
With that said, I think UFC president Dana White has provided an acceptable balance between showcasing a fighter that everybody wants to see (despite having little or no MMA experience) and the fighters that deserve to be recognized. This is the polar opposite to what EliteXC president Gary Shaw tried to do. Shaw immediately tried to elevate Kimbo to headline status, and watched his organization crumble after Kimbo's first loss to UCF castoff Seth Petruzelli.
Attempting to prevent history from repeating itself, the UFC looks to have taken all of the appropriate steps in making Kimbo's transition into the UFC an agreeable one for the fighters and the fans. Having him go through the TUF program allowed him to "earn" his way into the Octagon. Although he lost to Roy Nelson, he deserves a shot to "officially" become an Ultimate fighter. Heck, the fans deserve it!
And if you've witnessed just a little bit of Kimbo's personality on the show, you'll realize he's a pretty cool guy. Scary looking ... but cool!
In addition to Kimbo's bout against Houston Alexander, the other two big fights are Hamill vs. Jones and the bout between TUF finalists Roy Nelson and Brandon Schaub. The winner of the main event will likely see a middleweight title shot in their near future. The TUF 10 winner will be stepping into some very deep waters when they enter a heavyweight division comprised of fighters such as Brock Lesnar, Antonio Rodrigo Nogueira, Frank Mir and Cain Velsaquez.
The Ultimate Fighter 10 will be broadcast on Spike on Dec. 5 from the Palms Casino in Las Vegas.
MY PICKS:
Main Card
Matt Hamill vs. Jon Jones: Jones by 1st round TKO.
Frankie Edgar vs. Matt Veach: Edgar by decision.
Roy Nelson vs. Brendan Schaub ("TUF 10" tournament final): Nelson by decision.
Houston Alexander vs. Kevin "Kimbo Slice" Ferguson: Alexander by 1st round TKO.
Preliminary Card
Dennis Hallman vs. John Howard: Hallman by decision.
Brian Stann vs. Rodney Wallace: Stann by 2nd round TKO.
Mark Bocek vs. Joe Brammer: Bocek by decision.
Marcus Jones vs. Matt Mitrione: Mitrione by 1st round TKO.
Jon Madsen vs. Justin Wren: Wren by decision.
Darrill Schoonover vs James McSweeney: Schoonover by 1st round TKO.