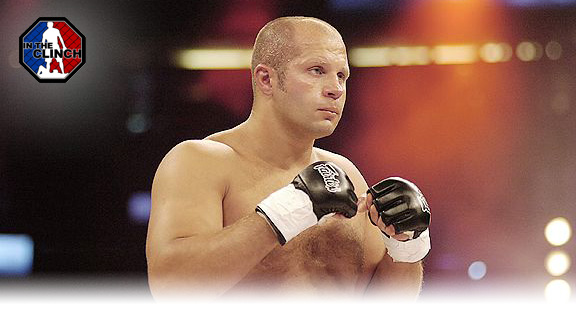 This weekend, Strikeforce (the UFC's main competitor) will attempt to break the record for the most watched MMA event in TV history when they showcase Fedor Emelianenko vs Brett Rogers on CBS. This is the first network-televised MMA event since Strikeforce bought out the now-defunct Elite XC organization which established the current record (6.51 million viewers at peak) by showcasing a gentleman by the name of Kimbo Slice.
The big question this weekend is whether or not Fedor will be as big of a TV ratings draw as Kimbo Slice or any other notable MMA fighter, for that matter.
Fedor has been described as the pound-for-pound best fighter in all of MMA, but is basically an unknown outside of the core MMA fan community. Over the last several weeks, Strikeforce has attempted to introduce Fedor to casual MMA enthusiasts by marketing him on a series called Fight 360 on Showtime. Producers are hoping to uncover and focus on Fedor who is depicted largely as a mystery to US fans. Fedor is widely known in other parts of the world, specifically Japan where he was a star in the now-defunct Pride FC.
Outside of the Showtime series and the 30 second commercials I've seen on CBS over the last 30 days, I don't think Strikeforce has done enough to properly introduce Fedor to the casual fan. Unfortunately for the organization, Fedor isn't necessarily a willing participant in the process. He's a very quiet, unassuming person who does everything he can to stay out of the spotlight and he isn't looking to be the face of MMA anytime soon.
If I were Strikeforce, I would attempt to learn from EliteXC's mistake and quit trying to make Fedor the main draw for the organization and focus on developing a wide-variety of talent in order to draw in the fans as well as compete with the UFC. When EliteXC put all of their eggs in the Kimbo basket, they went down for the count when Kimbo lost his fight against Seth Petruzelli. Hopefully history won't repeat itself.
For MMA junkies like me, Fedor vs Rogers is probably one of the top five MMA events of the year, but it will most likely stop short of breaking any TV records. But you never know, with the economy the way it is, an opportunity to watch a solid MMA fight card without having to shell out 50 bucks for a pay-per-view might be too much to resist.
Fight Picks
Fedor Emelianenko vs. Brett Rogers: Fedor wins by first round submission.

Jason "Mayhem" Miller vs. Jake Shields (for vacant Strikeforce middleweight title): Shields wins by second round submission.

Champ Gegard Mousasi vs. Rameau Thierry Sokoudjou (non-title match): Mousasi wins by second round TKO.

Antonio Silva vs. Fabricio Werdum: Werdum wins by first round TKO.
For the latest MMA news follow Andrew on Twitter or Facebook.