I've spent a lot of time over the last year proclaiming that BJ Penn is pretty much the best lightweight fighter in the sport. His dominance over Diego Sanchez at UFC 107 easily demonstrates that fact. Not since UFC 41 in 2003 has he faced a fighter (Caol Uno) in the lightweight division where I personally thought he was at risk to losing the bout. He hasn't lost a fight at 155 pounds since 2002! Need I say more about his legacy within the division?
That being said, I still question whether or not he has officially "cleaned out" the division. Are there additional fighters at the top of the list that he needs to face before we can give him that distinction?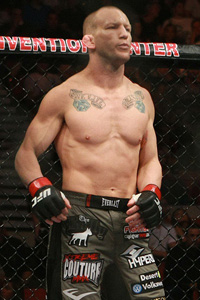 Dave Mandel/Sherdog.com
Gray Maynard
Obviously, his win over Sanchez eliminated his most immediate threat, but there are indeed a couple of fighters in the division that he should still face before I personally can say he's "cleaned out" his weight class. Gray Maynard, who fights against Nate Diaz at UFN 20, is one of those guys. Frankie Edgar is the other one, and he'll probably get the first crack at Penn sometime in April.
I believe that if Gray Maynard can beat Nate Diaz, he certainly deserves a shot against Penn as well.
The only problem with that statement is that the only fighter to ever beat Maynard is Diaz. Although Maynard has an undefeated record (with one no-contest), he lost to Diaz via guillotine choke in the second round of TUF 5. TUF fights are considered exhibition bouts and do not count on the fighters professional records. Exhibition or not, Diaz has bested Maynard previously and will obviously be a huge test for him at UFN 20. The pressure is truly resting on Maynard's shoulders, with a potential title shot hanging in the balance.
Unfortunately for Nate Diaz, I don't see him getting that same title shot opportunity if he is victorious. He's 1-2 in his last three fights and needs at least a couple more wins before I would consider him a contender for the title.
Hopefully Maynard has planned and trained accordingly, and has been working day-and-night on his submission defense. Diaz is one of the better submission specialists in the division. If Maynard has, I think he'll easily pull out the decision win and earn his shot at Penn some time in the near future.
Other Fights To Watch:
Escudero vs. Dunham: Escudero, TUF 8 winner, hopes to keep his undefeated record intact. He's 13-0 (2-0 in the UFC).

Lawlor vs. Simpson: Look for this fight to be a very fast paced bout with a ton of transitions between stand-up and ground games. This could be fight of the night.

UFC Fight Night 20: Maynard vs. Diaz will be broadcast via Spike TV on Jan. 11 from the Patriot Center on George Mason University campus in Fairfax, Virginia.
Fight Picks:
MAIN CARD
PRELIMINARY CARD
Chris Leben vs. Jay Silva: Silva by first round TKO

Jesse Lennox vs. Rick Story: Rick Story by decision

Nik Lentz vs. Thiago Tavares: Lentz by decision

Mike Guymon vs. Rory MacDonald: MacDonald by first round submission

Kyle Bradley vs. Rafael dos Anjos: Bradley by second round TKO