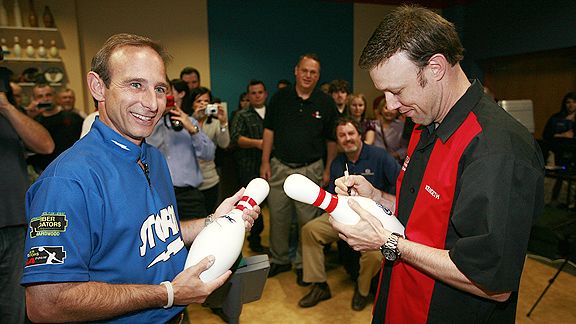 Tom Pennington/Getty Images
Pro bowler Norm Duke (left) and NASCAR driver Matt Kenseth exchange autographed bowling pins while visiting the International Bowling Hall of Fame in Arlington, Texas.
ARLINGTON -- NASCAR driver Matt Kenseth, currently third in the Sprint Cup season standings, found himself going head-to-head Wednesday with a Hall of Famer on a different kind of lane than he's accustomed to.
KENSETH BIO
Car: No. 17 Crown Royal Ford
Team: Roush Fenway Racing
Sprint Cup standings: Third
Ht./Wt.: 5-9, 152 pounds
Family: Wife Katie, son Ross, daughter Kaylin
Hometown: Cambridge, Wis.
Resides: Mooresville, N.C.
Sprint Cup wins: 18
Wins at TMS: 1 (2002)
Top 5s at TMS: 7
Top 10s at TMS: 10
Kenseth was in town to help promote the Samsung Mobile 500 on April 18 at Texas Motor Speedway, but he found himself bowling against PBA Hall of Famer Norm Duke and then TMS president Eddie Gossage.
Kenseth has had success at Texas Motor Speedway, having visited Victory Lane in 2002. He's also tied for the most top-5 finishes (seven, with Jeff Gordon) and has led the most all-time laps at the track (497).
After bowling a few games, Kenseth sat down with ESPNDallas.com to answer a few questions:
Q: How do you account for the turnaround coming off last year's disappointing finish?
Kenseth: Since Daytona, we've improved every week. We don't have all the finishes we wish we had, but all the guys are upbeat. It has been so much fun. Our car is faster this year and that makes the job easier for everybody.
How important is the new crew chief (Todd Parrott, who replaced Drew Blickenderfer after last season)?
Sometimes, it is good to make changes. Todd is very upbeat. He's good at seeing which guys need to be lifted up. He's been a part of successful teams in the past and he's a natural leader. I'm not. He's the emotional type, unlike myself.
The new spoilers, how do you feel about the change to the car?
I'm not anticipating anything different. I'm a little unsure going to Texas for the race, but my experience so far, if you didn't tell me they were on the car, I wouldn't be able to tell it.
Is Jimmie Johnson (winner of four consecutive NASCAR championships) the measuring stick for all drivers?
We can't just judge our performance against one team. We have to look at all the teams and measure ourselves against all of them.
What is your opinion of Texas Motor Speedway?
I enjoy it here. That's the reason I think I've been successful here.
How does a Wisconsin kid find his way to Sprint Cup racing?
I was fortunate that people saw me racing when I was young, liked what they saw and gave me a chance.
Is everything OK with you and Jeff Gordon after your get-together in Martinsville?
Jeff and I have had some incidents over the years, but those were in the past and we just move on and go from here. I'm fine with everything. He should be fine, too, since he got a third-place out of it in Martinsville.
Your family has four cats?
Sure, we've got plenty of room.
What's harder, a green-white-checkered finish or being the father of a 9-month-old daughter?
Being a dad is fun. I guess we've had three of the green-white-checkered finishes since they put in the rule. My opinion is where the cars end up, that's where they should end up.
How many speeding tickets have you gotten?
I haven't had one in 12 or 13 years. When you drive 200 mph for a living, you don't need to speed.