You asked for it.
"Old school racing!" "Mano a mano." "Give us our NASCAR the way it used to be!"
NASCAR responded. "Have at it boys," they said.
[+] Enlarge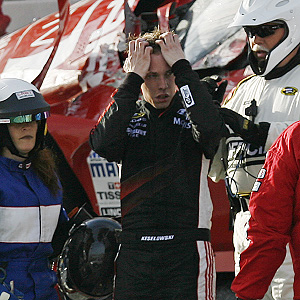 AP Photo/Joe Sebo
Brad Keselowski goes airborne on the frontstretch at Atlanta as Carl Edwards, who caused the flip, drives past. NASCAR parked Edwards.
And Carl Edwards offered swift retribution to Brad Keselowski for what Edwards perceived to be either an intentional or foolish move by Keselowski early in the race (and a few previous to the Atlanta incident) that damaged his car.
And now we have the first true test of NASCAR's new hands-off management style.
Personally, I understand. And, if you are true to yourself and all those things you've said over the last few years, you do too.
Now don't be a hypocrite. You said, "NASCAR just won't let boys be boys. Let them police themselves."
There is a code in all sports. In hockey, had you aggressively checked Wayne Gretzky, best be prepared to drop the gloves. Hum a fastball high and at the
chin in Major League Baseball, and the pitcher for the other team is going to aim at the chin of your first batter. That's the code.
In NASCAR, drivers have long memories. Sometimes payback occurs that day. Sometimes it occurs years down the road. But it occurs. That's the code.
Let me make it clear that Edwards didn't intend to hurt Keselowski, he meant to "punt" Keselowski across the infield grass. He did not deliberately intend to cause Keselowski to wind up landing on his roof at 180 mph. Edwards said as much after NASCAR officials -- appropriately -- sent him to the garage and out of the race after the incident. Additional punishment could well be forthcoming. But Edwards certainly intended to turn Keselowski around even though he was 156 laps behind. Payback is hell.
Anything can happen when an errant car is sent spinning. More often than not, Keselowski would have spun and hit the wall, ending his day. Otherwise, his car would have careened across the grass, requiring a new set of tires and perhaps causing cosmetic damage.
And Edwards' point would have been made.
But one possible outcome could be a flipping car, hitting the wall at high speeds and possibly hurting -- or worse -- the driver, other drivers or a fan. That's not part of the code.
But the old school drivers that you claimed "made this sport," were guilty of the same. They lived by the code.
Dale Earnhardt Sr. hooked Darrell Waltrip as the two raced for the win at Richmond, sending both viciously into the fence.
Earnhardt and Geoff Bodine battled regularly, highlighted by a grudge-match in turn two at NASCAR's all-star race one year.
The Allison brothers -- Bobby and Donnie -- duked it out with Cale Yarborough after Cale and Donnie crashed each other on the final lap of the Daytona 500.
Waltrip and Rusty Wallace staged a dramatic fight in the all-star race, resulting in Waltrip's spin in turn four and Wallace winding up in victory lane (Wallace claimed to have never touched Waltrip's bumper -- seemingly supported by video evidence -- while Waltrip suggested Wallace should choke on the winner's purse).
Earnhardt (there's that name again, the one that made you a fan) claimed he only meant to "rattle his cage" after spinning Terry Labonte out in turn two late in a Bristol race to win ... and heard the Bristol crowd's boos for the first time in his career.
So how are NASCAR officials supposed to respond? Do they severely punish Edwards or do they give him a slap on the wrist?
And Edwards knows that payback could well be coming from Keselowski. NASCAR officials know, too. And that cycle has the potential to spiral out of control.
So how do you like your NASCAR now?
You asked for it.