Is Jimmie Johnson ruining NASCAR?
Some say yes. In fact, a recently conducted, highly scientific survey (well, OK, it was really just a question I asked on my Facebook page) reveals that fans are tired of the JJ Dynasty in NASCAR. Approximately 60 percent responded that it was, to quote one, "... a total turnoff." Some of the remaining 40 percent said they "... respect greatness," while others responded by saying, "I ♥ Jr.!!!!!!!!!"
I love intellectual discussions.
So is it hurting NASCAR's TV ratings and attendance?
[+] Enlarge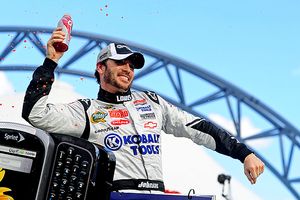 Mark J. Rebilas/US Presswire
It's up to other drivers to topple Jimmie Johnson's grasp on NASCAR. Otherwise, his dominance should be appreciated.
I don't think there is any question -- yes, it is hurting the sport. As one respondent said, "It's like watching the same Super Bowl over and over." Another said that Johnson, "makes it look too easy."
But did you turn the TV off when the NFL dynasties of the Dallas Cowboys or the Pittsburgh Steelers were crushing teams week after week en route to multiple Super Bowl rings? Did you care when Richard Petty was dominating NASCAR? Did it run you off when Michael Jordan was dazzling basketball fans with six championships? Or when Tiger... OK, maybe that's no longer a good example. But you get the point.
TV ratings and attendance for those sports didn't suffer. When Jordan's Chicago Bulls came to town, that was one tough ticket. Who didn't want to see Bradshaw, Franco and the Steel Curtain defense during the Steelers run?
Were you as bothered last year when Matt Kenseth had won two of the first three events, just like Johnson this year?
One person suggested it's because Johnson is not from the South, the birthplace and still a hotbed for the sport. The problem with that argument is that only a handful of drivers are from the South. More drivers come from California than any other state. What happened, North Carolina? Where did your drivers go?
And then there are the grassy knoll theorists, who are convinced nobody can win four consecutive titles unless they are cheating. I guess they are looking for a "magic bullet" for their favorite team.
But maybe it was revealed in a few interesting responses that go something like, "It looks like Jr. isn't getting the same equipment as everyone else at Hendrick."
Could that be it? The Junior Nation is so convinced that Rick Hendrick's team is giving the best stuff to Johnson, Jeff Gordon and Mark Martin (BTW, those three guys, Earnhardt's teammates at Hendrick Motorsports, finished 1-2-3 in the point standings last year while Jr. finished 25th).
No, not likely. Nobody would like to see Earnhardt win, or at least run much better, than Rick Hendrick.
But it could be that people don't appreciate Johnson simply because he's not Dale Jr. "Little E" is cut from a different cloth than other drivers -- owning a night club, hanging with his friends -- but maintains a bit of the blue-collar edge his father was famous for displaying (remember, this is a guy who said if he wasn't racing, he would likely be changing oil in the service department at the local car dealership).
There is a simple answer: Just beat Jimmie.
It's up to drivers like Jeff Gordon, Tony Stewart, Carl Edwards, Kevin Harvick, Matt Kenseth, Mark Martin, Jeff Burton, Kyle Busch, Denny Hamlin, Clint Bowyer, Kurt Busch, Greg Biffle and Brian Vickers to out run Johnson. And it's up to crew chiefs like Steve Letarte, Darian Grubbs, Bob Osborne, Gil Martin, Todd Parrott, Alan Gustafson, Todd Berrier, Dave Rogers, Mike Ford, Shane Wilson, Steve Addington, Greg Erwin and Ryan Pemberton to out-smart JJ's crew chief, Chad Knaus.
You guys are letting us down. Jimmie's dominance is bad for the sport. And it's your fault.
Just beat Jimmie.
In the meantime, "I ♥ Jr.!!!!!!!!!"