The Stars got into four fights in the first period and were caught killing off penalties. That's not the type of game this team can afford to play. While they've played much better the last few weeks on the penalty kill, much of that is because they don't take many penalties.
[+] Enlarge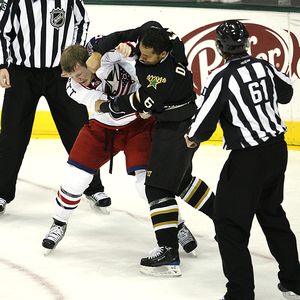 Jim Cowsert/US Presswire
Trevor Daley and the Stars played a physical first period against the Blue Jackets
On Thursday, they tried to match Columbus' physical play and stepped over the line too often. It forced them to kill off too many penalties, including a 5-minute major in the second period charged to James Neal for boarding. I'm not saying the Stars don't have fighters. They do. Teams don't want to be mixing it up with Steve Ott or Krys Barch. But that's not the Stars' game.
This team can play with anyone in the league if they stay disciplined. And you can bet that the rest of the NHL coaching staffs saw this game and will try to get physical with the Stars. It's not that Dallas can't get physical themselves, but they have to do it in a smart way.
"They scored all of their goals on special teams," Stars coach Marc Crawford said. "They won that big battle in the game, and it was a game we certainly can't be proud of. We've talked an awful lot about what we want as a group and how we want to perform as a group and that certainly wasn't the way we want to perform."
Crawford said he didn't buy any theories about being tired or lacking energy. Every team has to play back-to-back games. The teams that can win those games or at least get points in both, move up in the standings. The Stars didn't do that on Thursday.
On Saturday, look for Dallas to play smarter and to stay away from too many fights that can cause a steady stream of players into the penalty box.