ENGLEWOOD, Colo. -- Maybe it's because he was voted as a team captain a few months before his 25th birthday, maybe it's because folks have been talking about him and the Denver Broncos' quarterback job in some fashion for almost two years, but Trevor Siemian is still just 25 and sometimes he's going to play that way.
The Broncos are 3-1 as they work through their bye week and they reside in the division that happens to contain the NFL's only undefeated team -- the 4-0 Kansas City Chiefs. So, though the Broncos certainly like -- a lot -- what Siemian has done to this point, they will need their second-year starter to be all that and more when the team gets back to the field.
"He's still a young player," said Broncos coach Vance Joseph. " ... Trevor has done a lot of really good things, he's a really, really good young player, but we're always going to keep working at things. He knows that."
In the season's early going Siemian's four-touchdown day against the Dallas Cowboys is kind of the model of what the Broncos hope to see. He was efficient -- 68.8 percent completion rate -- and the Broncos were 4-of-4 scoring touchdowns in the red zone.
But Siemian had two interceptions in the Broncos' loss to the Buffalo Bills, including one when he was trying to throw the ball away. And in Sunday's win against the Raiders, he was sacked four times.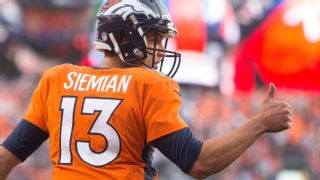 Joseph was clear that Siemian must take better care of the ball after the loss to the Bills, and Siemian later said he had to treat it like it was "a billion dollar football." After the Oakland game, Joseph said not all of the sacks were on the Broncos' pass protection.
"We had four sacks ... two were probably protection and two were probably Trevor," Joseph said. "He can throw the ball away, he can have a better feel in the pocket. He understands that ... As we play more games, he'll get a better feel in the pocket and know when the plays have expired."
The Broncos are tied for third in the league in rushing behind an offensive line that was retooled in the offseason, but that same offensive line has had moments in pass protection when it has looked out of sync. Siemian, who has taken his share of hits already, is tied for the fifth-most sacked quarterback in the league -- 13 times -- but has plenty of big-name company on the list. The four quarterbacks ahead of him are Carson Palmer, Alex Smith, Aaron Rodgers and Andy Dalton. Siemian is tied with Tom Brady.
Since Siemian played most of the 2016 season with a left shoulder injury that required surgery this past offseason, the amount of punishment he takes in the pocket will always be a concern for the Broncos. And despite their success running the ball, the Broncos' passing game in the new offense continues to be a work in progress.
There have been moments -- like the win against the Cowboys or the first quarter against the Raiders when Siemian threw for 140 yards -- when the Broncos have looked as good as any of the league's high-end attacks. But defenses continue to direct much of their coverage efforts toward wide receivers Demaryius Thomas and Emmanuel Sanders with the idea the Broncos won't be able to consistently protect well enough for Siemian to get to the third and fourth options.
When he does, like the two touchdown passes to Bennie Fowler this season or tight end A.J. Derby's four-catch day Sunday, the offense moves the ball. But that will have to consistently happen before defenses adjust and direct some of the help on Thomas and Sanders elsewhere.
"I just felt like we were always one play away from really getting momentum," Siemian said of Sunday's win. "We just didn't really have a rhythm, and they did a good job of mixing up coverages, defenses and safety pressures. They kept us on our toes, but we've got to find a way to stay in a rhythm, stay on the field and get it to our guys."
Siemian says he continues to work on his "situational awareness" as his development continues.
"I think you have to understand the situation, when you're backed up, you're obviously not taking any sacks," Siemian said. "If you're in the red zone and it's third-and-5, you take a sack and have to kick a 25-yard field goal rather than a 20-yard field goal. It's not that big of a difference ... There are times to throw it away and there's time to take a sack and it's a good sack."