MIAMI GARDENS, Fla. -- His team sits at 3-8 and has lost seven in a row for the first time since 1967, and folks keep asking Denver Broncos coach Vance Joseph about next week, next month and even next season.
But Joseph doesn't want to look down the road, and he said this week he isn't tossing young players into the lineup just to "get a look at the future.'' No, he says the Broncos simply need a win.
"Sunday is my only concern,'' Joseph said this week. "Sunday, this Sunday. That's it, that's our total focus.''
The Broncos haven't won since Oct. 1 -- a 16-10 victory over the Oakland Raiders -- and they haven't won a road game since Dec. 4, one day short of a full calendar year ago. And Joseph was asked this week if, given all of that, it was still difficult to keep the team engaged.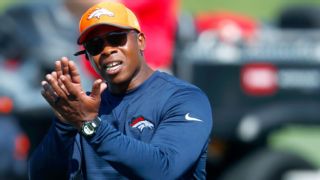 "You have to motivate them every week, so that's not different for me,'' Joseph said. "Every Monday morning you walk in win or lose and you have to reset the week. On a Wednesday morning it's your first day of work and you do the same. It's no different if you're winning or losing as far as motivating the football team."
With that in mind, here are some things to watch for in Sunday's Broncos-Dolphins game:
Make Jay Cutler throw -- a lot: The Dolphins are 29th in the league in rushing -- they've rushed for 79.2 yards per game -- and they've scored one rushing touchdown all season. The Broncos' chances of putting their pass rush into a position to have some impact against Cutler will increase greatly if they can keep the Dolphins in more difficult down-and-distance situations. The Broncos have trailed so often during the current losing streak, not holding the lead at any point in five of those games, that offenses haven't felt compelled to throw the ball that often. Raiders quarterback Derek Carr, for example, attempted just 12 passes in each half of last Sunday's game against the Broncos, in which Oakland never trailed. Cutler has taken his share of punishment this year, having missed time with cracked ribs and a concussion.
A tough week: The Broncos defensive line and linebackers will bear watching in this one. Several players in both position groups missed practice time this week because of the flu, including starters Todd Davis and Shane Ray. Toss in injuries to defensive end Derek Wolfe (neck) and nose tackle Domata Peko (knee) -- both players will miss Sunday's game -- and the Broncos' ability to keep players fresh in the defensive front seven will be impacted. At one practice this past week they had just three defensive linemen healthy enough to practice. And the flu bug has affected several other players who did not miss practice so were not listed on the team's injury report this week. On Friday alone, Ray, Davis and linebacker/defensive end DeMarcus Walker all missed practice because of the flu.
Protect Siemian: Trevor Siemian will get his eighth start of the season -- he missed four starts after being benched -- with Bill Musgrave in his second game as interim offensive coordinator. Siemian and Musgrave found enough common ground last week when Siemian played just over a quarter for an injured Paxton Lynch to finish 11-of-21 passing for 149 yards and two touchdowns. Musgrave can't overhaul the entire offense from what Mike McCoy was using, but Musgrave's roots are in the West Coast system, just as former Broncos coach Gary Kubiak's roots were in the system. Kubiak has always said he believed Siemian could perform at a high level in the offense. With a little play-action game and some improved protection, Siemian could show that in this one. If Siemian isn't part of the Broncos' plans for 2018, he'll get a chance to show a quarterback-starved league he took the fall after the Oct. 30 loss to the Chiefs when the four games since have shown he wasn't nearly the biggest problem.
Find a little fuel: The real story of the Broncos season goes beyond the litany of turnovers, the quarterback changes and a defense that has surrendered 24 touchdown passes. It is this team simply hasn't bounced back from struggle at any point. The Broncos are 0-5 when they trail at the end of the first quarter, 0-7 when they trail at halftime and 0-8 when they trail at the end of the third quarter. In short, when trouble comes early, the Broncos don't dig out. It makes the first quarter an important item Sunday. They've had the most difficulty on offense on their opening drive, when they've scored in just three games this season. In seven games, they failed to get a first down in their first drive. The season's lost, but if the Broncos don't show a little something against the Dolphins, the home crowd against the New York Jets next Sunday will look like something people haven't seen since the sections of empty seats in 2010.