ALLEN PARK, Mich. -- T.J. Lang never really considered the possibility. A year ago at this time, even two years ago, he never thought he'd step inside Lambeau Field as anything other than a member of the Green Bay Packers. He had been there for eight seasons after being drafted out of Eastern Michigan.
It had become home to him during football season. Then, this offseason, he left. He wasn't expecting to leave. There was nothing acrimonious about it. It was the business of football. The Detroit Lions came with a better offer, one the offensive lineman couldn't turn down. So he moved back to his home state of Michigan.
And those thoughts of playing in Green Bay his entire career disappeared.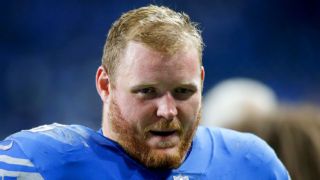 "That was always ... I think every player, you get to a certain point in your career where, as rare as it is, you'd like to build a legacy in one team," Lang said. "But that's really rare nowadays. I think it was a lot more common in previous years.
"It is what it is, man. I'm happy to be here. Wouldn't trade it for anything."
Lang became a Pro Bowler in Green Bay. He won a Super Bowl with the Packers. He had a strong familiarity with quarterback Aaron Rodgers and the offensive linemen he grew up around. He even got used to constantly hearing Todd Rundgren's "Bang the Drum All Day" and "Roll Out the Barrel" -- a tradition that has had Will Ferrell and Melissa Etheridge participate as song leaders.
He joked that it gets old, but he knows "the fans love 'em." It is part of the tradition of one of the most iconic stadiums in professional sports. Even opponents, who rarely win there, enjoy being able to play inside the stadium. Lang said he never got to do the Lambeau Leap -- at least not in a game. He did it during practice occasionally and called it a struggle because the wall is higher than it appears on television.
This is what Lang left. And he's not sure what to expect now that he's going to be returning for the first time wearing a different uniform -- a uniform of one of Green Bay's rivals.
"I have no idea, to be honest with you," Lang said. "I've thought about it a little bit. I don't think it was a relationship that ended on bad terms, certainly not from my end, but you never know with fans, obviously.
"Division rival, kind of, you forget pretty quick how long a guy played there. But it is what it is. I don't look for cheers, boos, it doesn't matter to me. It's not going to affect my mindset."
It hasn't with the Lions thus far. He's been Detroit's best offensive lineman this season -- something Packers coach Mike McCarthy acknowledged in his conference call with Detroit's media -- and has seemingly adjusted well to going from the only pro football home he's ever known to the place he's lived almost his entire life.
Lang grew up a Lions fan. He was never sure he would be back in any other capacity except as a Packers player on the team that has dominated the NFC North and tormented the Lions over the years. But he's back in Detroit after signing a three-year, $28.5 million contract in March.
He's more than fine with that.
"Honestly just being closer to family. I think being gone for the majority of the past eight years, you miss a lot. I've got three younger brothers," Lang said. "My wife's family is all back here. You miss a whole lot of time watching them grow up and going to their football games and things of that nature, my kids being around their grandparents.
"Obviously missed a lot of time with that, so kind of making up for missed time now, and I think that's been one of the best things so far."