Houston Texans running back Arian Foster has been one of fantasy's kings for three seasons, a touchdown machine who has averaged more than 1,900 yards from scrimmage in that time. He's also the No. 2 player and running back in the ESPN Fantasy rankings for this season … but he's my No. 15 running back for Week 1, a Monday night tilt against the hardly imposing San Diego Chargers defense. So what gives?
Well, what gives is that Foster missed the entire preseason with calf and back injuries, and Texans coach Gary Kubiak claims his workhorse running back will see less than a full workload for the opener. Whether that means 20 touches or five is impossible to tell, but obviously backup Ben Tate is affected by this proclamation as well, and it shows in the rankings. Foster, of course, claims he's refreshed and strong and ready for the season, but let's just say I have my doubts.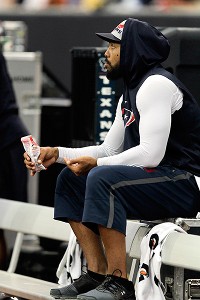 Bob Levey/Getty Images
Texans back Arian Foster didn't get much work this preseason because of calf and back injuries.
That said, Foster should still start for you; he's a clear-cut RB2 at the very least, a guy who can provide enough fantasy relevance on even 10 touches because he can score touchdowns in bunches. Perhaps Tate gets the heavy lifting between the 20-yard lines, and Foster is used cautiously. Or perhaps quarterback Matt Schaub gets the chance to air things out to awesome Andre Johnson and potentially interesting rookie DeAndre Hopkins. Also, the Chargers don't have a terrible defense. Don't be surprised if the Texans have trouble moving the ball.
As we embark on a new season of rankings and this weekly blog entry, my rankings reaction, my first piece of advice after trusting your gut is to forget about your draft. It's over. So what if Foster was the second pick overall (I rank him seventh) or New England Patriots tight end Zach Sudfeld was a post-draft waiver addition. Your goal is to play the best options each week, regardless of how they were acquired. It might seem ridiculous to downgrade a whopper such as Foster in any week he's dressed and ready for action (albeit less action than normal), but it's just. I ranked 14 running backs -- and for Thursday's flex rankings, several wide receivers -- better than the star back, and yeah, I do see a scenario in which I'd even sit him.
As for Tate, I do not expect more than 20 touches. In fact, I think Foster gets more, unless this turns into a Houston rout early. If you look at the unexciting Chargers personnel on offense, perhaps this scenario makes sense, but you can't bet on it. It's Foster over Tate, but neither over, say, Maurice Jones-Drew, Steven Jackson and David Wilson for me. It might be the only time all season we're saying this, but then again, injuries are the great equalizer in fantasy, so it might not be.
As for other thoughts on the Week 1 rankings, let's go position by position. As always, keep in mind I can write intelligibly about only my own rankings, not what my colleagues are thinking.
Quarterback: Mostly standard stuff here, but I know the Philadelphia Eagles well, and while I question their offense, I really have concerns about their defense. Good luck against Robert Griffin III! Honestly, I don't think the Washington Redskins rewrote the playbook to keep Griffin healthier. He's going to run, throw and put up big numbers against the Eagles, so I ranked him fifth at quarterback, better than Aaron Rodgers, who faces the San Francisco 49ers. … Similarly, I was pleased to see that none of the rankers went all-in with erratic Eagle Michael Vick. … Cam Newton appears the big faller in the initial rankings, as he faces the Seattle Seahawks. But don't overrate this. The Seahawks are good, but so is Cam. He's still a top-10 quarterback. If desperate and thinking youngster, I like Buffalo Bills option EJ Manuel -- yes, he is apparently starting -- over the Oakland Raiders' Terrelle Pryor. The Patriots can be scored on, and Buffalo does have weapons.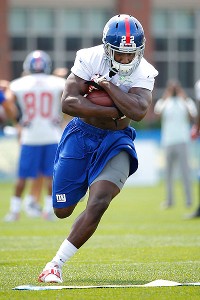 Jim O'Connor/USA TODAY Sports
Speedy David Wilson checks in at No. 11 among running backs in the ESPN Fantasy Week 1 rankings.
Running back: I admit to being all-in on New York Giants sophomore David Wilson. The Andre Brown injury makes him his own goal-line back, and I see many points being scored in the Giants-Dallas Cowboys tilt. Wilson is my No. 10 running back. I have no concerns about the top-9 running backs. … I realize brittle options DeMarco Murray and Darren McFadden are supposedly healthy today, but neither made my top 20. Not in a week with no byes and seemingly everyone except Foster healthy. … Two of us ranked BenJarvus Green-Ellis of the Cincinnati Bengals ahead of rookie Giovani Bernard. Interesting. I just see the Law Firm getting more touches and goal-line chances. … This is not the week to use DeAngelo Williams, but he's still worth owning. … I wanted to rank Indianapolis Colts newcomer Ahmad Bradshaw better, but then I thought Andrew Luck might be up three touchdowns on the Raiders before halftime, and figured it could be a short afternoon for him.
Wide receiver: The option that jumps out is my No. 11 ranking of Atlanta Falcons star Roddy White. They play the New Orleans Saints. In this case, it was a little about White's ankle injury. The team hopes he can play Sunday, which scares me a tad. Also, I just happened to like 10 other wide receivers more, including Larry Fitzgerald and for this week, a healthy Danny Amendola. Both have useful matchups. … I realize Jordy Nelson is likely to play for the Green Bay Packers this week, but he's probably not 100 percent, and it's versus a tough 49ers defense. My No. 32 rank does seem a tad harsh, however. … Yep, I'm all-in for Patriots rookie Kenbrell Thompkins. Love the matchup. And his quarterback. … I fear unproven Charger Vincent Brown was so underrated months ago that he actually became a bit overrated recently. I ranked him among my top-40 wide receivers, but won't have a long leash. … Tampa Bay Buccaneers veteran Mike Williams was better than you might realize last year, and I see a Bucs blowout this week.