Philadelphia Phillies first baseman Ryan Howard smacked a long home run off Atlanta Braves lefty Paul Maholm on Friday night, and it understandably sent some fantasy owners into a tizzy on Twitter. After all, Howard used to be one of baseball's preeminent sluggers, but he hasn't been so special since tearing his Achilles tendon in the 2011 playoffs. While we can all mock his worth in relation to his hefty contract, the threat of big-time power is enticing to Phillies fans and fantasy owners. Alas, we won't see Howard hit another blast for a while; he was placed on the 15-day disabled list with knee troubles just before Saturday's game, and a Monday MRI could spell a pending surgery.
Howard was owned in 100 percent of ESPN standard leagues before the weekend -- that figure has quickly dropped -- mainly because even as bad as he has been, he has hit 25 home runs and knocked in 99 runs since the start of 2012, covering 151 games and 609 plate appearances. That's essentially one season. Even as a shell of his former MVP self, Howard has still hit for power. Should you hold on to him in 10- or 12-team formats? I'm skeptical Howard will be back in the Phillies' lineup this month, especially as the team's season further slips away, but sure, if his knee is healthy, there is modest power upside, all razzing aside. If you're taking a chance on the likes of Ike Davis and Chris Carter in fantasy, Howard is a similar option, at least in theory. In real life he is, of course, untradeable and signed for -- gulp! -- three more seasons, so the Phillies want him healthy. Howard has flaws in performance and health, but he can still hit home runs.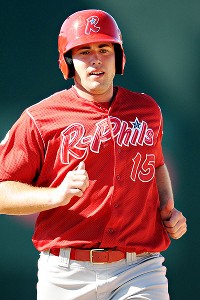 AP Photo/Ken Babbitt
Darin Ruf had a breakout season for Double-A Reading in 2012, but hasn't been as impressive this season at Triple-A.