What interests me most about the return of New York Yankees outfielder Curtis Granderson to the lineup is not, oddly enough, the two-time 40-home run, 100-RBI player himself. Granderson is going to play regularly. He's going to hit home runs and strike out an awful lot, none of it surprising eager fantasy owners, and hopefully he'll steal enough bases to really impact that category, as well. Regardless, I had no qualms about activating him right away for his season debut Tuesday night, even against the great King Felix Hernandez, which resulted in little help for fantasy owners. At least he's back.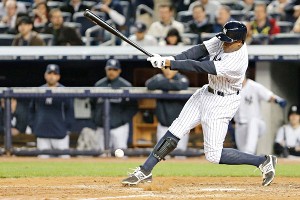 Anthony Gruppuso/USA TODAY Sports
Curtis Granderson is the first of the Yankees' big hitters who started the season on the disabled list to return to action.
Actually, what I want to see is how Yankees skipper Joe Girardi -- and honestly, looking at that shell of a daily lineup it's hard to believe this team is in first place, so credit where it's due -- handles his future lineups now that the Grandy man is back, because that's going to affect quite a few fantasy owners, as well. The Yankees still have precious little on the left side of their infield until Derek Jeter and Kevin Youkilis return, since their four starting-caliber (on the surface) outfielders can't play there. Granderson, Vernon Wells, Brett Gardner and Ichiro Suzuki do appear worthy of regular at-bats, and then there's the lefty-hitting designated hitter, Travis Hafner, with a higher OPS than every Yankee except second baseman Robinson Cano, and he led him entering Tuesday night. What will Girardi do?
A sore right shoulder injury to the normally durable Hafner -- OK, that's a lie, as he's about as brittle as they come -- settled the issue Tuesday night, as he sat and Vernon Wells could bench his outfielder's mitt, with Gardner splitting Granderson and Suzuki in the outfield. Frankly, fantasy owners don't care much which outfield spot Granderson handles. Where he hits is important. The lineup was basically muffled by Hernandez for six innings, but a healthy Hafner would have created quite a conundrum. After all, Girardi can't sit him against right-handed pitching. Gardner has been leading off and stealing bases. The rejuvenated Wells is New York's second-best option on the Player Rater (after Cano) and the lone right-handed power hitter, so it makes little sense to sit him.
The correct answer is that the underwhelming Suzuki should be sitting, not Wells or Hafner or Gardner, who hasn't been special but is a better center fielder and a reasonable leadoff choice. Suzuki offers no power and little plate discipline; his OBP is a disappointing .289. Despite what appeared to be a gentle rebirth offensively upon his cross-country trade from the Seattle Mariners to Gotham last year, Suzuki hasn't been an above-average offensive player since 2010. He homered off Kansas City Royals right-hander Wade Davis last week, his second of the season, and then proceeded to go 0-for-4 with a strikeout in each of the next three contests. He should be on the bench most days, frankly, though name value probably counts for something. Since the potential Hall of Famer -- can't say that about the other Yankees outfielders -- is owned in 57 percent of ESPN standard mixed leagues and is among the most added outfielders over the past week, I'd call that pertinent information.
Regardless, Granderson might have been a top-30 pick had he not had his forearm broken in his first at-bat of spring training, but it happened and he missed six weeks. He's back and should provide fantasy owners with the numbers they've become accustomed to, with little aftereffects of the injury. Meanwhile, first baseman Mark Teixeira could see his serious wrist problem linger all year. Jeter's ankle is also likely to be a factor even when he returns. Granderson should be fine. He hit cleanup Tuesday, which I actually like; Cano is this team's best hitter -- and it's not particularly close -- and he should continue to bat second, which is smart. I happen to think Wells is not a fluke, despite the fact he hasn't been this good in a really long time, so splitting the lefties, while overrated in the big picture, makes sense here. Yes, Wells' outstanding line drive rate should regress in time, but he's drawing walks, hitting many singles to the opposite field and he's just outside the top 10 among all batters in well-hit average, which is quite impressive. I'm not selling high on Wells, which I admit I find shocking.
It should be pointed out that Gardner hasn't been that much better than Suzuki, but each is a left-handed hitter, so it's not like a platoon makes sense. Using well-hit average again to prove a point, of 175 qualified hitters, they are two of the bottom 10 in that statistic. Gardner walks more -- and strikes out a lot more -- but has also been one of the better defensive center fielders in the game. While defensive metrics remain far from perfect, Granderson is not a strong defensive center fielder, and he looked comfortable in left field Tuesday.
Hafner's situation bears watching; he's owned in only 20 percent of ESPN's 10-team leagues, which isn't odd, but those in daily formats can speak to his value when the Yankees face a right-handed pitcher. A week ago Hafner's ownership was doubled, but a recent slump can change everything. Nobody is expecting Hafner to play in 150 games this season. He averaged 86 of them the past five seasons. Still, the guy can still rake. Wells will DH with Hafner out this week, but here's to wondering what will happen when Hafner is healthy. If I was counting on Suzuki, I'd start looking for a replacement.