The seemingly brittle NL West teams just can't seem to catch a break when it comes to key injuries. The Los Angeles Dodgers haven't had their optimal lineup all year, and two outfielders are still out. The San Diego Padres got center fielder Cameron Maybin back recently after he missed a few months, and now he's out a few more. The Arizona Diamondbacks thought they'd get right-hander Daniel Hudson back this summer, but they won't. On Wednesday in this space, I discussed the rough day for the San Francisco Giants (Pablo Sandoval, Marco Scutaro). And Thursday, the Colorado Rockies simply had one of those days: Two starting outfielders were hurt in the same game, and the best shortstop in the league broke a rib. Caught up yet?
These injuries have made the division race a bit more interesting -- all five teams remain contenders, really -- but fantasy owners are trying to figure out how they should be reacting. What happened to the Rockies in their 5-4 home loss to the Washington Nationals on Thursday just doesn't seem fair. Carlos Gonzalez, the No. 2 overall option on ESPN's Player Rater, suffered a bruised left foot when a Jordan Pacheco foul ball struck him while he was waiting his turn in the on-deck circle. Center fielder Dexter Fowler, the No. 11 outfielder on the Rater, was hit in the right hand by a Ross Detwiler pitch trying to bunt, and he should miss some time. Fortunately, neither Gonzalez nor Fowler suffered broken bones, but nevertheless Tyler Colvin will certainly be safe in terms of expected playing time this weekend. Poor Eric Young Jr. was designated for assignment recently, or else he'd see more playing time.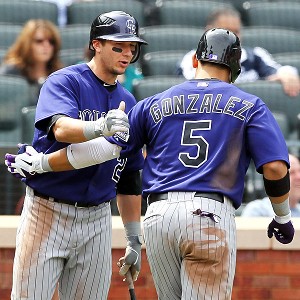 Jim McIsaac/Getty Images
The Rockies lost Troy Tulowitzki (left) and Carlos Gonzalez in the same game last night. Gonzalez (ankle) is day-to-day; Tulo (broken rib) is expected to miss 4-6 weeks.