I suppose we should congratulate the Texas Rangers for sending prospects to the Chicago Cubs for right-hander Matt Garza, a clear upgrade for their rotation. But from a fantasy aspect, I hardly view it as an upgrade to our teams. While Garza is experienced and he should neither fold under the heat of pitching in the hot Texas summer nor in a pennant race, I just can't get over this noteworthy and potentially overwhelming statistic: His career ERA is 3.80, not exactly making him Matt Harvey, and at Wrigley Field it's 2.70. And he's leaving Wrigley Field.
And that's just it. Garza is 100 percent owned in ESPN's standard mixed leagues, and he should be, especially the way he has been performing of late. Over his past six outings, Garza has won five of them, for a bad team, and permitted no more than two earned runs in any of them. His ERA in that span is a cool 1.23. But now he's heading to a tougher league and a tougher ballpark for pitchers, without question, and it's worth noting that his ground-ball rate hasn't been this low in years, or since he was in the American League with the Tampa Bay Rays. He's fine, certainly valuable to Texas until one of the prospects sent packing emerges (and one will), but this guy was near the top of my fantasy sell list a week ago should a trade to the AL occur. And now it has.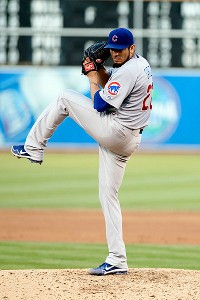 Ed Szczepanski/USA TODAY Sports
Matt Garza missed the first month and a half of the season, yet still ranks above such names as Tim Hudson and Cole Hamels on the ESPN Player Rater.