We knew Shaq would keep busy after he retired, but we didn't know he'd take it this far. This photo is funny enough without a caption, but the captions you submitted at FACEBOOK.COM/ESPNHS took it up a notch. We listed our three favorites below, so take a look and then vote for the best.
Caption 1
Shaq: "This doesn't involve shooting free throws, does it?"
- Cooper Caldwell, Monett (Mo.), Sophomore
Caption 2
Venus: "Hey Shaq, can you still dunk?"
- Dakota Lynch, Cypress Lake (Fla.), Junior
Caption 3
Oreo: "Um, why are you guys looking at me like that? Guys? Uh oh."
- Tim Miller, Marian Catholic (Pa.), Senior
---
What'd they say?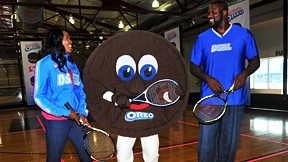 Tennis anyone?