HOUSTON -- Along with the football education Deshaun Watson received at Clemson, he gives his alma mater credit for another skill that has already helped him greatly at the NFL level.
"Being a quarterback, especially at this level, you have to be able to communicate with all the guys," said Watson, the Houston Texans' rookie quarterback. "You have to know how to communicate with all the guys, when to communicate with all the guys, what type of mood they're in, and I guess your vibe and energy that you give off. That's why I went to Clemson."
"I graduated with a communications degree, so I guess that helped too," Watson quipped.
Although Watson is just a rookie, he has a long list of attributes that have already impressed the Texans' coaching staff and players. Atop that list is his ability to communicate on and off the field.
"Even from his first snap out there, he looked confident, like he belonged out there, like he'd been there before," wide receiver DeAndre Hopkins said. "Just the way he was talking to everybody, joking and commanding things from us as wideouts and offensive line."
On the field
Hopkins and Watson are constantly communicating during a game. On the three occasions the Texans didn't score a touchdown in the red zone in Sunday's 57-14 rout of the Tennessee Titans, Hopkins said the pair immediately discussed what they saw and what they could take advantage of in the future. In the fourth quarter, they were talking about what could help them in the upcoming game against the Kansas City Chiefs.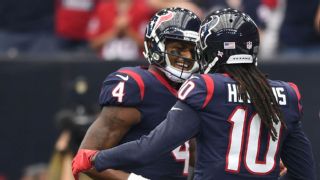 "Deshaun's telling [the receivers], 'Hey, look, I expect you to do this if it's that,'" Texans coach Bill O'Brien said. "There's some good give-and-take there, and it's important that the players communicate so they're not confusing each other. 'If it's this look, I'm doing that. OK, but hold on now, if it's this, what are you going to do?' It's a constant communication that the coaches oversee, but that's important, and I think they're doing a good job of that."
The connection on the field between Watson and Hopkins is only getting stronger, according to the numbers. In Watson's first two games (which includes his relief of former starter Tom Savage in Week 1), the QB completed 54.2 percent of his passes when targeting Hopkins for an average of 5 yards per attempt. That has increased to 85 percent and 9.2 yards per attempt over the past two games, according to ESPN Stats & Information.
Watson has started only three NFL games, but he doesn't act like a rookie when it comes to talking a good game.
"He's able to really just communicate with you just what he's thinking, what he expects from a defense based on what we've told him going into it, how he feels he would react to certain plays," quarterbacks coach Sean Ryan said. "There's a lot of calm communication coming from the guy."
What especially stands out, Ryan said, is the way Watson communicates during the game. Whether it's a good series or bad, Watson is "able to come over, explain what he saw, what happened, and be able to look at the pictures and kind of get it right and come up with solutions, when there were problems, moving forward.
"I came off the field feeling after the game like this guy's seeing and communicating with us what he's going through in the game, and it's helping us to adjust with him throughout the game."
The ability to communicate well is not always a given with young quarterbacks.
"Being a rookie, I realize it's tough to talk to the older guys like that, but he's doing a good job just stepping in there and taking control," Savage said.
Added left tackle Chris Clark: "Watching him out there, the way he holds himself, the way he carries himself, his playcalling abilities -- he's doing really well, and I'm proud of the person he's becoming, and he can only grow from here."
Off the field
Off the field, the Texans quarterback and his star receiver have developed a bond. Hopkins, who also played at Clemson, said the night the Texans drafted Watson, it was "one of the best feelings I've had since I've been here."
They met when Clemson was recruiting Watson out of high school, and the quarterback said he "was all big eyes in shock" seeing all the athletes Clemson had, especially Hopkins. But they didn't play together at Clemson. Hopkins turned pro after his junior year and the Texans drafted him in the first round in 2013, while Watson's freshman year at Clemson was 2014. The QB also turned pro after his junior year, and the Texans made him a first-round draft pick in 2017.
"Since I've gotten here our relationship has grown and has continued to grow each and every day," said Watson, who graduated from Clemson in three years. "The trust and loyalty we have on and off the field, and just the way we can be able to communicate while we're on the field and off the field, too."
Although just 25, Hopkins said he feels some responsibility to help his rookie quarterback. But he was quick to point out that Watson is "a pro's pro" and he already "does all the great things that every great quarterback needs to do to be in this league and to be successful."
The biggest way he can help Watson, Hopkins said, is to "just be there whenever he throws me the ball."
"[It's important] so he can build that confidence with me because we only get a certain amount of plays at practice, so in the game, make every opportunity count when [he] and I are connecting.
"And just talking to him on the sideline, telling him things that he might not be able to see. The coaches, they do a good job of helping him once he's on the sideline. But kind of just telling him what I think this player is going to do before the game, just from experience of playing against the player, and how we can attack him."
Watson's desire to win has really helped him succeed in this area, O'Brien said, and an important part of that mindset is helping his teammates succeed as well.
"He's a great teammate. He really understands what his role is," O'Brien said. "He's the exact opposite of a selfish person. He's all about the team, and really all he cares about is winning, when it comes to football. He just wants the team to win. He doesn't care about stats.
"We've learned that about him from the day we met him. He just wants to win. I think part of that wanting to win is really realizing where your teammates are lined up, what they're thinking, what you're thinking, communicating with your teammates. He does it all the time in walk-throughs or in the locker room or in meetings. He does a good job of that."