HOUSTON -- After Tom Savage was named the Texans' starting quarterback to replace an injured Deshaun Watson, he said he hoped to continue the success Watson had with wide receivers DeAndre Hopkins and Will Fuller downfield.
Entering Sunday's game against the Indianapolis Colts, Hopkins and Fuller were tied for the NFL lead with seven touchdown catches each. And while Savage and the Texans' offense came up short in their fourth-quarter comeback, Savage had success relying on Hopkins.
Savage targeted Hopkins 16 times on Sunday, which is double the passes he threw to any other player. Hopkins finished with six catches for 86 yards and a touchdown, and the 16 targets were tied for the most he has seen this season, after Savage and Watson combined on 16 passes his way in the season opener against the Jacksonville Jaguars.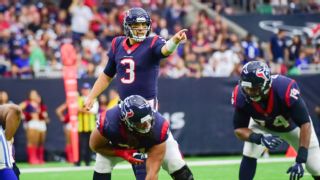 Savage and the Texans' offense got off to a slow start on Sunday, and Hopkins had just two catches for 15 yards through three quarters. The offense picked up in the fourth quarter, when Savage led the Texans down the field and threw his first career touchdown pass to Hopkins. On the final drive of the game, Savage got Houston to first-and-goal from the Colts' 7-yard-line with 18 seconds remaining on the clock. But Savage threw three straight incomplete passes and was sacked to end the game.
If the Texans are going to turn this season around after dropping to 3-5 with the loss to the Colts, Savage will have to continue to lean on Hopkins.
On Sunday, Hopkins became the first player in franchise history with a receiving touchdown in five straight games. He is the only player in the NFL this season with a touchdown catch in five consecutive games and the first since Miami Dolphins receiver Kenny Stills accomplished that from Week 14 of the 2016 season to Week 2 of the 2017 season.
After the game, Hopkins avoided talking about Savage's performance and improvement as the game went on, instead taking the blame and saying he "left some plays on the field."
On the biggest play of the game -- fourth-and-goal with two seconds remaining -- Savage was looking for Hopkins in the end zone after targeting him on the third-down play, as well. Hopkins was double-teamed, as the Colts had done frequently during the game -- and sometimes bringing three or four players to defend him.
"It is what it is," Hopkins said. "I feel like I've earned their respect for guys to have two or three guys on me, especially on a key play like that."
Although the Texans couldn't score on that final drive, Hopkins said the positives they had in the fourth quarter shows the new offense under Savage has the potential to be successful.
"[The fourth-quarter drives] showed we can move the ball," Hopkins said. "We just have to do it more consistently, just come out and start fast and not wait until late to pick things up."