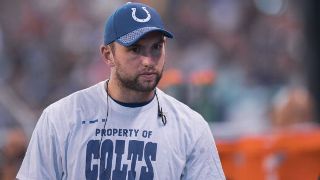 INDIANAPOLIS -- Indianapolis Colts quarterback Andrew Luck could be participating in practice for the first time since late December when the team takes the field on Wednesday afternoon.
Luck will practice -- and practice some more -- with the purpose of playing in the regular season.
This regular season.
As the Colts (1-2) have sputtered along at the start of this season and are not in the position to be a title contender with their current roster, the question of whether to even play Luck this season has come into play.
Luck, as long as he's healthy, will play this season after spending the past eight months rehabilitating his surgically repaired right shoulder. Coach Chuck Pagano recently said he has no doubt in his mind that Luck will return this season. When that will happen is anybody's guess. It could come from Week 6 on.
Who knows what the Colts' record will be when Luck returns. They could still only have one victory and be a long shot to make the playoffs by the time Luck is at the stage where he's ready to return.
But the thought of sitting a healthy Luck has never crossed the mind of those inside the Colts organization. Not playing Luck would send the wrong message to the players, especially the veterans that are on the tail end of their careers, the coaches and the fan base. It would say the organization cared more about potentially tanking than trying to be competitive.
The Colts showed their desire to want to try to win games when they traded for quarterback Jacoby Brissett on Sept. 2 and had him starting at quarterback two weeks later instead of continuing to take their lumps with Scott Tolzien.
Luck's competitive mentality wouldn't allow him to sit back and watch from the sideline healthy on a weekly basis while his teammates compete.
That's clearly the case when you consider that he wouldn't sit out and attempt to let his right shoulder get better after he originally injured it exactly two years ago today in Week 3 of the 2015 season. Luck played through the pain on Sundays. The closest he would get to slowing down was when he was limited in practice at least once a week last season.
Luck could have easily sat out last season's finale against Jacksonville because the Colts had already been eliminated from playoff consideration. Instead, he was sprinting across the field with his fist in the air in excitement after throwing the game-winning touchdown pass to Jack Doyle with nine seconds remaining to complete a 321-yard performance.
Luck's patience has been tested throughout this process. He acknowledged the mental challenges that accompanied the physical ones back in July. This is the longest stretch at any level that the $140-million quarterback has not practiced or played in a game.
"Number 12, he's our man," running back Frank Gore said earlier this week. "He really makes this ship go. With him, it'll be even greater. He loves the game. That's one guy that I think loves football more than me. He loves football and I respect him. My three years here, that's a football player. Tough, smart, true football player."