INDIANAPOLIS -- The Indianapolis Colts will be without rookie cornerback Quincy Wilson (knee) for the second straight game, but they'll have a veteran cornerback making his regular season debut against the Seattle Seahawks on Sunday.
Vontae Davis, who has been out since the third preseason game with a groin injury, will be back in his starting role alongside Rashaan Melvin, who is playing the best football of his career, against the Seahawks.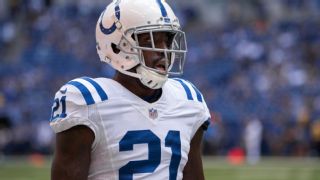 "It's always tough, but injures are a part of the game," Davis said about being out. "You can't control it, nothing I can control. Now I'm able to get back and excited to be with my teammates."
This is the second straight year that Davis opened the season with an injury. He missed the first two games of the 2016 season with a foot injury. Davis' return was big enough that veteran running back Frank Gore went over to Davis during a media scrum earlier in the week and brought out plenty of laughs when he started interviewing the cornerback.
"It's hard to simulate the speed of the game," Colts coach Chuck Pagano said. "You're playing against some really good players and some really good receivers and a really good offense. But he's on point, he's locked in and he's done a great job with his rehab. I know he's excited as heck to get out there and be out there with his teammates and play. He'll make some mistakes and he'll make some plays."