INDIANAPOLIS -- After more than 250 days, no offseason workouts, no training camp and no preseason games, the time has come for Indianapolis Colts quarterback Andrew Luck to return to the practice field.
We think.
General manager Chris Ballard said during a radio interview Monday that Luck will practice this week. Ballard didn't give a specific day, so it could be Wednesday, Thursday or Friday.
Luck has not played in a regular-season game since Week 17 of last season.
Expectations for how Luck will look in the coming days, maybe even coming weeks, should be tempered. Luck hasn't practiced since the days leading up to that Jan. 1 game against the Jacksonville Jaguars. No timetable has been set on when Luck will play in his first game of the season.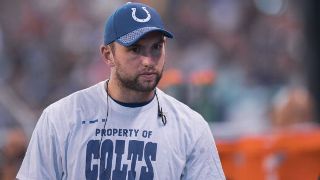 Luck isn't suddenly going to be the starting quarterback. That's going to happen at some point, but not on the first day he practices again. Jacoby Brissett will continue to get the bulk of the first-team reps in practice for the time being.
The Colts won't just throw Luck out there and have him fling the ball around like he's been healthy. They didn't show patience all this time only to overload Luck's workload so that he could possibly have a setback with his surgically repaired right shoulder. The quarterback will be on a pitch count early on in practice.
"Everybody has to understand he's not going to come back and take all the first-team reps and play 50, 60, 70 snaps in practice a day,'' coach Chuck Pagano said on WFNI-1070 on Monday. "We have to integrate him back into practice. Like anybody else, do some individual, throw some routes versus air, stay with his throwing progression and bring him along."
There will be rust, likely a lot of it, at first. Rust with Luck's arm, which he has spent the past nine months rehabbing. Rust with his footwork. Rust between him and his receivers. Rust with the timing with his offensive linemen. Luck will get some snaps with the scout team, which will allow him to get used to feeling pocket pressure, until he's ready to take the next step.
"I think you'd integrate him back into practice just like you would, like we did Vontae (Davis two weeks ago)," Pagano said. "He got all his reps on the card team."