LOS ANGELES -- Kevin Demoff is more excited about where the Los Angeles Rams will be than he is about where they are, and that's saying something. Demoff, the Rams' chief operating officer, considers the head coach and the quarterback to be, outside of the owner, the two elements most essential to an organization's long-term prosperity.
In Sean McVay and Jared Goff, he sees a head coach and a quarterback who can grow together, succeed together.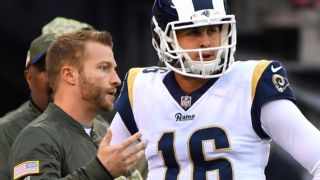 In 10 years, McVay will be 41 and Goff will be 33, both presumably still within the prime of their respective professions. The thought made Demoff chuckle during a recent interview.
"That's the crazy part," Demoff said, his Rams now 6-2. "This is sustainable. And that's where, as a building block for this franchise -- for this organization, for this city -- you feel really good about what you've planted. And now it's got to grow."
The growth has already taken place.
McVay's emergence as a first-year head coach and Goff's improvement as a second-year quarterback have the Rams on pace to join the 1965 San Francisco 49ers as the only team in NFL history to lead the league in scoring one year after finishing dead last, according to the Elias Sports Bureau. The Rams have gone from averaging an NFL-worst 14 points per game in 2016 to an NFL-best 33 points per game in 2017. Through their eighth game, a 51-17 rout of the New York Giants on Sunday, they have topped last year's entire point total.
Goff went 14-of-22 for 311 yards, a career-high four touchdowns and a career-best 146.8 passer rating in Sunday's win, which made him the NFC's Offensive Player of the Week. He ranks 10th in the NFL with a 58.8 Total QBR after posting an 18.3 Total QBR as a rookie, dead last among those who started at least five games in 2016. McVay, meanwhile, is among the favorites for NFL Coach of the Year, despite being the youngest head coach in modern league history.
Thinking about the McVay-Goff dynamic prompted Demoff to consider other successful coaches and quarterbacks who ascended together: Sean Payton and Drew Brees, Mike McCarthy and Aaron Rodgers, Mike Tomlin and Ben Roethlisberger, Bill Walsh and Joe Montana.
He feels that good about his.
"Those pairings have been what have created those great, long runs of success," Demoff said. "And I think you start to see that this year."