THOUSAND OAKS, Calif. -- The Los Angeles Rams were at home, trailing the division-rival Seattle Seahawks and driving down the field in hopes of a game-winning touchdown in the final seconds. And they went to a silent count. Los Angeles Memorial Coliseum hosted an announced crowd of 60,745 that Sunday, and so many of them rooted for the opposing team that the noise they produced made it difficult for Rams quarterback Jared Goff to communicate the snap count to his teammates.
That was Oct. 8, nearly five weeks ago. The Rams haven't played a game in Los Angeles since, but they return home on Sunday with the wind at their backs. They're 6-2, leading the NFL in point margin while suddenly becoming the darlings of the NFL. Many now expect them to make the playoffs. MMQB.com's Peter King is even picking them to win the Super Bowl.
But will they finally start getting more love from the home crowd?
"The one thing I've learned is this is a city that likes people that win," Goff said. "When you win, they come. And we've been winning, so hopefully they'll come."
Goff will have to wait a little bit longer. The Rams aren't expected to draw much more than their average of 59,162 from three prior Coliseum games when they host the injury-riddled Houston Texans on Sunday. That's about 25,000 shy of the NFL-leading 84,457 they averaged last year.
Players have noticed.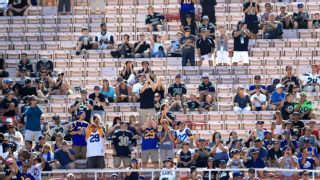 "A hundred thousand people can fit in that stadium, so you can definitely tell the difference when there's not that many people," Rams running back Todd Gurley said. "But just like any other team, we just gotta win. Obviously we're new back in L.A., so we just gotta win and establish that fan base again."
Two key factors have contributed to the attendance decline, one intentional and one self-inflicted. The Rams are capping tickets sold at roughly 65,000 this year, at least partly because it became a logistical complication to host 85,000 professional-football fans at a 94-year-old venue such as the Coliseum. But the biggest issue is the way the Rams played last year, while going 4-12 with a dismal offense and a lame-duck head coach.
So many of the fans who were ecstatic for the NFL's return to L.A. after a 22-year absence quickly lost interest, and the Rams are finding it difficult to win many of them back.
Not helping matters: They've won all of two games at the Coliseum since returning to L.A. for the start of the 2016 season.
"Last year was a disappointing season for a lot of fans," Rams punter Johnny Hekker said. "The product we put on the field was something that a lot of people were hesitant to put their name on and pay money to come see. Hopefully what we've shown this season, up to this point, will sway people's minds and have them spend their hard-earned money to come in and see us in the Coliseum -- see the highest-scoring offense in the NFL, a great defense, and guys that play a really interesting and entertaining style of football. Hopefully things are going to change."
The Rams have won three straight since their last home game, improving to 5-0 away from the Coliseum. They edged the Jacksonville Jaguars, then combined to beat the Arizona Cardinals and the New York Giants by an 84-17 score.
Under first-year head coach Sean McVay, their offense, last in the NFL in yards each of the last two years, ranks second in offensive points per game. Under celebrated coordinator Wade Phillips, their defense has given up the eighth-fewest yards since Week 5 and has produced 15 turnovers throughout the year, three shy of the NFL lead. Goff looks like a legitimate franchise quarterback, Gurley has re-established himself as an elite multi-threat running back, and Aaron Donald has once again shown that he might be the game's best defensive player.
"We've got to just continue to focus on trying to deliver a good product to this city," McVay said, "and hopefully the fans will come up and support us."
Attendance won't increase just yet. Rams tickets sold by fans on the secondary market remain cheaper than the unpurchased ones being sold by the team. In other words, there's little incentive for additional seats to be filled. But even if the game is sold out, the Coliseum will still only look about two-thirds full this year.
The hope from Rams players is that the vast majority of the fans who show up are rooting for them instead of the opposing team.
Rams linebacker Alec Ogletree is hoping that the atmosphere "feels amazing" on Sunday.
Hekker isn't so sure.
"I'm certainly hoping for it, but I'm not expecting it," Hekker said. "This season is still young, and there are going to be people that are going to start jumping on the bandwagon soon enough. We're just going to let everything take care of itself, and we'll just focus on winning this next game."