I caught up with starting quarterback Kevin Prince following Tuesday's practice to talk about what he does when he's away from the football field. Here's what he had to say:
Blair Angulo: I hear you're a big golfer. How often do you play?
Kevin Prince: I try to play as often as I can. Right now during spring ball I've been going on our days off, just hitting the range. I'm a member up at Mountain Gate Country Club, so I get nine holes in every now and then with my dad. I started playing when I was 12, my dad got a membership just right here and got me into the sport. He had always played and was wondering if I wanted to try it. I did and it's definitely one of my favorite sports now. A bunch of the guys on the team golf, so we go out and shoot it up.
Angulo: Who on the team gives you a run for your money?
Prince: Jeff Baca is pretty good. I heard Kai [Forbath] and Danny [Rees] -- all those specialists -- are good. They have a little more time on their hands. But I've played with Baca and I heard Taylor Embree golfs, so I want to go with him. Dalton Hilliard is pretty good, Jeff Dickman, Kevin McDermott. We all go out and play.
Angulo: What's your best round?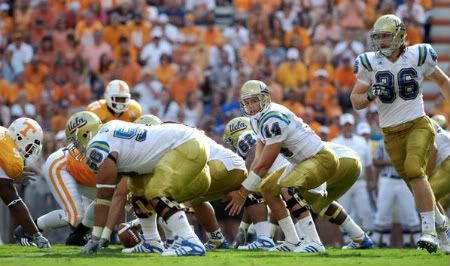 Michael Chen/Daily Bruin
When he's not under center, Kevin Prince (14) enjoys playing golf and watching the Los Angeles Lakers.
Prince: The best I ever shot was in Hawaii when I was younger. I shot an 83. That's the best I ever shot. Right now I'm not quite there but Baca and I are determined to get our scores down after spring ball.
Angulo: What else do you do on your downtime?
Prince: I just like to relax. I'm a big movie guy, big movie buff.
Angulo: Do you have a favorite?
Prince: Favorite movie? That's tough, man. That's real tough.
Angulo: Anything else?
Prince: I like to play basketball. I'm careful with it because I don't want to get hurt. You can play golf and not have to worry about getting hurt. But I'm a big basketball fan. I love the Lakers. I'm pretty pumped to go watch this Game 2 right now.