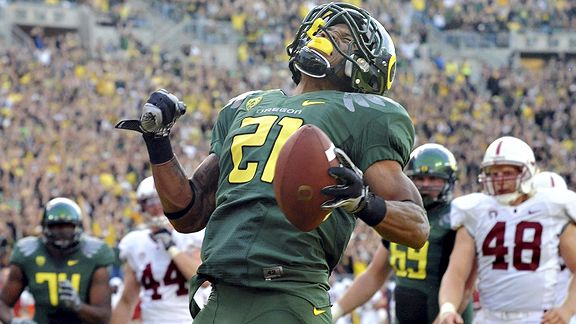 Steve Dykes/Getty Images
Oregon's LaMichael James set a Pac-10 freshman rushing record last year with 1,546 rushing yards.
Of all the things UCLA's defense must worry about when facing top-ranked Oregon on Thursday night, LaMichael James tops the list.
Oregon leads the nation in total offense and James, leading the nation with 169.6 yards rushing per game, is a major reason why.
And that is not good news for the Bruins, who have had difficulties stopping top-tier running backs this season. Daniel Thomas of Kansas State, the nation's eighth-leading rusher, had 234 yards against the Bruins and Shane Vereen of California, 19th in the nation in rushing, had 151 against UCLA.
But James is a different kind of back than those two power runners. Vereen is 5-feet-10, 204 pounds and Thomas is 6-2, 228, both dwarfing James, who is a mere 5-9, 185.
"He's a totally different back than what we've seen so far," UCLA defensive coordinator Chuck Bullough said. "He's smaller but quicker. He spins out of tackles and has better movement so he's a different type of back, but he's a pretty good one as it is."
James did not play the season opener against New Mexico because he was serving one-game suspension after an offseason harassment charge, but he has scored at least one touchdown in every game since and has a total of 10. His 12 points per game average is fourth in the nation.
After setting the Pac-10 freshman rushing record last year with 1,546 rushing yards, he has 848 at the midway point this season -- despite missing the opener -- and has put himself in the middle of the Heisman Trophy race. He has four games of 134 or more yards, including a 227-yard game against Portland State and a 257-yard game against Stanford.
"He's a very elusive running back," UCLA linebacker Akeem Ayers said. "He's very quick, shifty and slippery back so you have to be a sure tackler. He's got a lot more speed than any other back we've seen this year."
The Oregon spread offense tries to get James the ball in the open field where he can use his speed and elusiveness to make would-be tacklers miss and it has worked. James has six plays of 50 yards or more this season, including touchdown runs of 76 and 72 yards.
He has 13 career 100-yard games and his next will tie him with Jonathan Stewart for most in Oregon history. Last year, James had 152 yards in 28 carries against UCLA, though he did not get a touchdown in Oregon's 24-10 victory.
"He's a great back, there's no doubt about that," Bullough said. "We just have to make sure we wrap up and bring him down on first contact. We also have to make sure that everybody is getting to the ball because he is going to break tackles. We just have to hope the first guy can grab and hang on and everybody else can there."