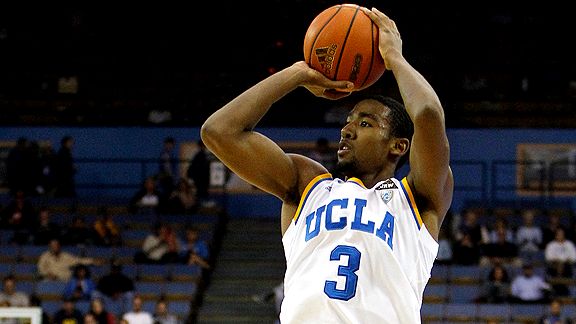 Ric Tapia/Icon SMI
Malcolm Lee is the Bruins' defensive leader, but his offense also has become noteworthy.
UCLA heads to Stanford on Thursday night riding a five-game win streak spurred by a lock-down defense.
The Bruins (18-7, 9-3) have held all five opponents during that streak to less than 40 percent shooting from the field, a big improvement for a team that allowed Washington, California and Arizona to shoot more than 50 percent during the first half of Pac-10 play.
Guard Malcolm Lee is the defensive leader of the team, usually assigned to guard the opponent's top scorer, but center Anthony Stover, who has had increased playing time in recent weeks, also brings a lot of defensive energy. And the consistent defensive intensity of those two has become contagious.
"When one player on the court has a real high defensive intensity, everyone else wants to play to his level," Stover said.
One player in particular who seems to have been caught by the defense bug is forward Reeves Nelson. Once considered a defensive liability, Nelson has become a solid post defender, and Feb. 2 against USC, he asked to take defensive duty against USC's top player, Nikola Vucevic.
Nelson held Vucevic scoreless for the final 15 minutes.
"I just tried to be an example for the other guys," Nelson said. "He was doing pretty well against us, and I know Coach says that I'm a leader on the team and I was trying to take responsibility for that, so I was just trying to step up when we needed to and it worked out."
The team seems to have gotten on the same page defensively during this stretch.
"Before we even leave the locker room, after Coach talks to us, we get together and say, 'Let's get out here and play this defense,' because we know that's what wins games," Stover said.
And having 25 games under their belts has allowed the Bruins to jell on defense.
"We have a better bond, so we just have each other's back, basically," Lee said. "Also the mental toughness. We realize that we're going to have to shut down the other team or hold them to a low field goal percentage to win the game. That kind of gave us a sense of urgency on our task."
The game against Stanford (13-11, 6-7) is at 7:30 p.m. PT and will be televised by Fox Sports West. Stanford is 10-3 at home this season but has lost three of its past four home games.
A Big Difference
UCLA defeated Stanford in their previous meeting, 68-57 on Jan. 22, and that was without Joshua Smith.
Smith, a 6-foot-10, 305-pound freshman center, did not play against Stanford because of injuries to his head and neck after falling to the floor two days earlier against California.
Since his return, however, Smith has played some of his best basketball of the season, averaging 12.8 points and adding the dunk to his scoring arsenal.
"Not having Josh definitely makes a difference because it takes away our best low-post scoring threat," coach Ben Howland said. "I think Josh is playing pretty well right now so it will definitely help to have Josh there. It'll give us another big body."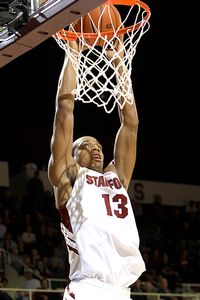 AP Photo/Paul Sakumacite
Josh Owens gave UCLA problems in their first meeting last month.
That will come in handy in trying to defend Stanford's Josh Owens. The 6-8 forward gave UCLA problems in their first meeting, with 14 points and 12 rebounds.
"It'll be a lot different because he attracts a lot of attention," Nelson said. "They're going to have to adjust to that, and that will definitely open up things for everybody else."
Lee, who had 23 points against Stanford the last time around, said he expects the Bruins' offense to be even better than it was Jan. 22.
"When we have the ability to play inside out, it makes it that much easier on the offensive end because guys like [Smith], they're going to have to double down," he said. "They're going to have to pick their own poison. It's harder to defend when a team goes inside out."
Lee's Offense Clicks
Lee has developed a reputation as a defensive stopper, but his performance on offense has generated some interest of late. He is averaging 17.5 points over the past seven games, has been the Bruins' leading scorer in the past two games and has taken over as the team's leading scorer with 13.8 points a game.
"I've just been trying to get aggressive," Lee said. "My confidence on offense has gone up. Just the main thing is to stay aggressive and take initiative. The game is starting to slow down, and things started to click. It just kind of came out of nowhere."
He was quick to credit his defense for rubbing off on his offense.
"I think it came up on this big hype of me playing defense because I was just going into every game playing aggressive on defense and it just kind of transferred to the offensive end," he said. "The game switches so quick end to end so I think it's just having that aggressive mind state."
Seeing Green
Lee will be busy trying to guard Stanford leading scorer Jeremy Green on Thursday. Green has been on a roll, averaging 23 points over the past four games, and had a string of 12 consecutive made 3-point baskets during that stretch.
Green had only 12 points on 4-of-15 shooting with Lee guarding him last month, but the Bruins are well aware of his potential to go off. He had 30 points against them at Stanford last season.
"He's just a big-time scorer," Lee said. "He can shoot as well as put it on the floor."
Lee said his strategy against Green will be the same as it is against every big-time scoring threat he's faced this season.
"I keep reminding myself that guarding these types of players, you can't take time off on the defense because once they see that, that's when they take advantage," he said. "You've got to be on your toes every time when you are guarding these types of players because they will score on you if you're relaxed."
Shouldering The Shooting Woes
Tyler Honeycutt acknowledged his shoulder, injured Dec. 21 against Montana State, is still bothering him, and it's clearly affecting his shooting.
Over the past six games, Honeycutt is shooting only 28.6 percent, and he's made only two of 19 3-point attempts.
"When we're grinding it out, it gets kind of sore," Honeycutt said. "That's why a lot of my shots are probably flat because I can't get my shoulder up."
The rest of his numbers are holding steady or improving. He is leading the Pac-10 with 47 blocked shots and is fifth in the conference in rebounding at eight per game. He's also leading the team in minutes played.
He said his shoulder started feeling better a few weeks ago, so he stopped getting treatments on it, but he recently returned to the rehab circuit.
"I wasn't really doing it because I figured it would go away and it wasn't really hurting," he said. "But now it's starting to hurt a little more so I'll continue to do rehab."