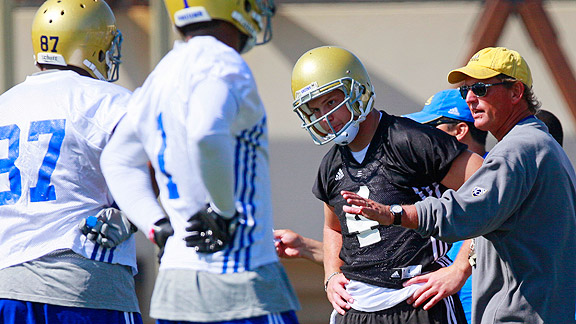 AP Photo/Damian Dovarganes
Rick Neuheisel, right, talks with Kevin Prince during the Bruins' first fall practice.The official word as fall camp opened Monday at UCLA is that there is an open competition for the starting quarterback spot going on between Kevin Prince and Richard Brehaut, but if you read between the lines of what coach Rick Neuheisel says, it's pretty much Prince's job to lose.
Neuheisel has criticized Brehaut for his lack of commitment to learning the offense, citing the fact that Brehaut played for the UCLA baseball team last spring and then played in a summer baseball league.
"He has to know that the quarterback at UCLA has to know everything," Neuheisel said of Brehaut last month at Pac-12 Media Day. "It can't be a guy who knows 80% of it."
Monday, Neuheisel reiterated his stance, saying that Brehaut "is not a finished product," and pointing out that Brehaut had forced some balls into coverage. To be fair, Neuheisel also had some criticisms of Prince, saying he made some "unforced errors," but he couched that when he said "that's going to be the case as he gets his sea legs back under him" after missing more than six months because of knee surgery.
The criticisms of Brehaut have not fallen on deaf ears. Brehaut acknowledged he has heard Neuheisel's thoughts on his commitment through media reports and from Neuheisel, but said he's still feels like he has an opportunity to win the job.
"I hope I get that fair shot," Brehaut said Monday after taking second-team reps during the first practice. "I believe I will. I believe Coach Neuheisel will stick by his word and I'll get a fair shot and the best guy is going to win the job. I can't worry about if in his eyes, maybe he favors Kevin more. In my eyes, I think Coach Neuheisel believes in me. I think he knows the ability I have to be the quarterback of this team and I think I'm going to get that fair shot."
Brehaut did not miss any off spring practice and participated in every player-run practice and throwing session over the summer, often skipping baseball games so he could participate.
"I don't think that playing baseball hindered my quarterback skills at all," he said. "I know some things were said in the offseason about the time I was away playing baseball and how maybe that was not the best thing for me in terms of being the starting quarterback. I don't worry about that stuff, I don't really listen to it because I think I've done everything I can to get ready for this fall."
As to the notion that he's only partially committed to the football team, Brehaut said, is nonsense.
"In my mind, I'm 100 percent committed to this football team," Brehaut said. "I'm 100 percent committed to leading this team and winning a Pac-12 championship. I can't worry about if in his mind I'm only 80 percent committed because in my mind and my confidence and my ability it what's going to help me win the job or not so that's all I can worry about."
Prince, who took all of the reps with the first team Monday, lost the job last season after knee surgery knocked him out at the midway point of the season. He was limited to non-contact drills in the spring, but is back at full strength to open camp. Still, he acknowledged that he will have to earn back the job.
"I don't think I should just be handed the job just because it was mine and then I got injured," Prince said. "I feel like I should still have to prove it. It was because I got injured [that I lost the job], but I still haven't been the most consistent player in my time here so I'm excited to be pushed and excited to compete and prove that I can be consistent and prove that I can be a solid player for this offense."