Spring has sprung at UCLA -- at least that's how football coach Rick Neuheisel put it during a teleconference with reporters on Monday.
"Spring is even more important, maybe more than before," Neuheisel said. "It's about really testing things out and finding out who exactly is going to be capable in the fall."
It wasn't that way during his first two springs. After he took over for former coach Karl Dorrell in 2008, Neuheisel used the time to introduce the players to his new coaches and their philosophies. The hope is that there is less teaching and more playing this time around.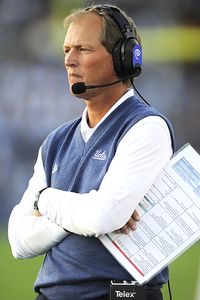 Matt Brown/Icon SMI
Rick Neuheisel hopes there's less teaching in his third spring as UCLA's coach.
"Not that we won't teach and explain, but we have to find time for legitimate playing -- who can play this game and who can play it with the intensity that this conference demands," Neuheisel said.
Here are four things to keep an eye over the next three weeks, as UCLA kicks off its spring session today at Spaulding Field.
1. Who will fill the gaping hole at defensive tackle?
-- Someone will have to now that Brian Price, a projected first-round pick in next month's NFL Draft and the defending Pac-10 Conference defensive player of the year, is gone. That leaves the Bruins without one of the nation's best interior lineman. UCLA can't really replace Price's 23.5 tackles for loss and seven sacks, but the coaching staff will keep a close eye on senior David Carter, who aside from Price and Jerzy Siewierski (also gone), saw the most action last season.
"David Carter has got to pick up where he left off," Neuheisel said.
Carter played in all 13 games, recording nine tackles and two sacks. Nate Chandler, a converted tight end, will also be analyzed closely.
2. Will anyone snag the go-to receiver spot?
-- Apparently, quarterback Kevin Prince doesn't need a top target.
There hasn't been a defined go-to wideout at UCLA since the days of Marcedes Lewis. The current batch includes Nelson Rosario, Taylor Embree and darkhorse Josh Smith, who sat out last season after transferring from Colorado. "I want to see what receivers can jump to the front," Neuheisel said.
Many feel that Rosario can do just that. At 6-foot-5, he has the size to be a threat in the red zone. Embree has arguably the best hands amongst the group, while Smith put his versatility on display for the scout team last fall. "Josh is an exciting player," Neuheisel said. "He can make a lot of plays, both as a returnman and a receiver. I'm excited for him to have those opportunities."
3. Can the offensive line turn the corner?
-- If there's one thing the line has going for it, it's that it returns every starter except for Xavier Su'a-Filo, who left on a two-year Mormon mission following last season. Here are Jeff Baca's thoughts heading into the spring:
Redshirt freshman Nik Abele will get the first chance to fill in for Su'a-Filo at left tackle. Baca (left guard), Kai Maiava (center), Eddie Williams (right guard) and Mike Harris (right tackle) round out the line.
The Bruins ranked No. 97 in the nation last year in rushing offense with an average of 114.62 yards per game. That's just not going to cut it if offensive coordinator Norm Chow wants to open up the playbook.
4. Will the defense be as good as it has been?
-- We mentioned Price before, but he's just one of the departed starters. Alterraun Verner, Reggie Carter, Korey and Kyle Bosworth and Siewierski are gone too. All-American safety Rahim Moore is back, but will he have much help? Neuheisel feels that linebacker Akeem Ayers can develop into a special player as well.
"I can't tell you exactly where he'll come from, but I just know he'll be given a chance to put his ears back and get after the quarterback," said Neuheisel, hinting that Ayers may be used as a hybrid defensive end and linebacker.
With the veterans gone, Moore feels that it's his time to step up in the leadership department:
Click here for the official Spring Practice schedule.