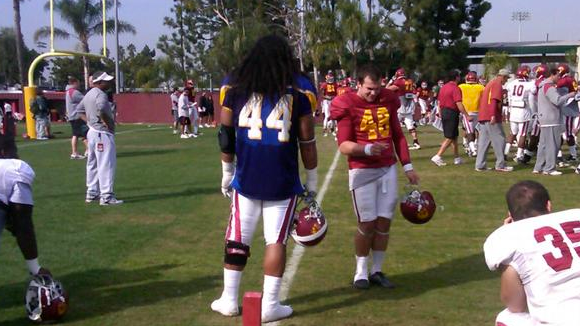 Pedro Moura/ESPNLA.com
Defensive tackle Christian Tupou wears his No. 44 jersey from Sacramento Grant High on his final day of padded practice at USC. He was one of four Trojans to take part in a long-standing school tradition.
Bringing back a tradition that has escaped the Trojans for quite some time now, four USC seniors wore their high-school jerseys to practice Wednesday.
Defensive tackle Christian Tupou, offensive lineman Martin Coleman and receiver Brandon Carswell sported their prep uniforms, and fullback/tight end Rhett Ellison took some scissors and tape to his current uniform to make it look like his old one.
"We're just trying to keep tradition alive at this school," said Tupou, adding that his blue-and-yellow No. 44 jersey from Sacramento Grant High fit him best 40 pounds ago. "It was kind of unusual, a little uncomfortable, just different.
"But if it's keeping tradition alive -- if that's what it means -- then I'm all for it."
Running backs coach Kennedy Polamalu first brought the idea up to the players a while back, Tupou said, mentioning that it was all the rage in the 1980's, when he was in school. Then, Ellison got more information on it from his father, Riki Ellison, and told the rest of the seniors to participate.
There was some confusion as to whether it'd be done Wednesday, for the final padded practice, or Thursday, for the final practice overall. But Thursday has its own tradition as the seniors run off the practice field through a tunnel formed by their teammates, so the players decided to do it on its own.
"Rhett's been waiting for this a long time," said Carswell His dad told him about the tradition and he brought it to our attention. A lot of the seniors are kinda bummed out that they didn't get to wear theirs, but it was fun for today."
Ellison cut up an undershirt and taped up his helmet to create some similarities to the get-up he wore at St. Francis in the Bay Area. Coleman wore the green uniform he sported at Edison High in Orange County.
Carswell's jersey was a navy No. 1 jersey from Milpitas High, also in the Bay Area. He said he felt a lot tighter than he remembered it.
"I like the way it looks," Carswell said. "I felt fast out there today, felt young again, it was awesome."
USC coach Lane Kiffin said he supported the players' attempt to revive a bit of history.
"They mentioned it to me and I had no problem with that," Kiffin said. "That's got nothing to do with how we're preparing and how we're lining up and practicing.
"Anytime we have a chance to let the kids do something they like we usually favor that as long as we're still staying focused."