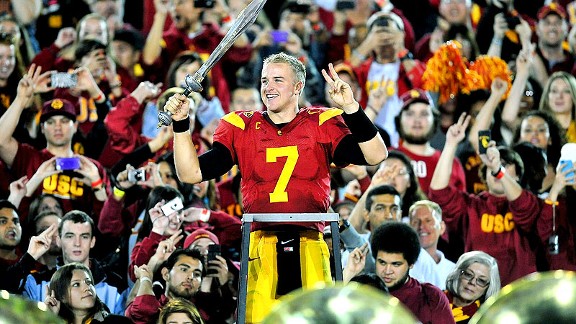 Gary A. Vasquez/US Presswire
Matt Barkley put an exclamation point on his Heisman Trophy campaign by completing 35 of 42 passes for 423 yards and six touchdowns against crosstown rival UCLA.
The chants of "One more year!" for USC quarterback Matt Barkley began in the first quarter in the USC student section. They grew louder and spread slowly in the second quarter. By the third, they took over the Coliseum. By the time USC put the finishing touches on a 50-0 rout of UCLA Saturday night, you could practically hear the Trojans' rallying cry across Los Angeles.
One more year.
It doesn't seem like a lot to ask of a 21-year-old college student who has his entire life ahead of him, but it's an almost impossible request to make at this point.
Barkley put an exclamation point on his Heisman Trophy campaign by completing 35 of 42 passes for 423 yards and six touchdowns against crosstown rival UCLA. It capped a season in which he passed for a school and conference record 39 touchdowns and seven interceptions.
As Barkley stood atop a ladder after the game, wielding a sword and leading the USC Trojan Marching Band in "Conquest," USC senior linebacker Chris Galippo smiled at the scene and said, "He's not coming back, trust me."
Even USC coach Lane Kiffin was convinced Barkley had played his last game at USC when it was over.
"I'm probably not supposed to say this but unless he just wants to do it to be a special Trojan, he ain't coming back," Kiffin said. "Who's playing better than Matt in the country? How do you not draft that kid? He's going up there in the top five."
It seemed everyone had an idea of what Barkley would do except for Barkley, who said, "I have no idea what I am doing next year. Tonight is too special to worry about that."
At some point, however, Barkley will have to worry about that. When he does, something tells me he will decide to come back.
I can't explain it other than to say I've been wrong before. I was shocked when Andrew Luck decided to come back this season after Jim Harbaugh bolted for the NFL, stunned when Matt Leinart returned after winning the Heisman and back-to-back national championships, and surprised when Peyton Manning ended up playing his senior year at Tennessee.
When Leinart came back he said, "I think college football and this whole atmosphere here and being with my fans and my teammates ... is ultimately more satisfying and will make me happier than any amount of money could make someone happy."
Leinart knew nothing in his life would ever be as good as his time at USC. Sure, he would have liked to have beaten Texas in the Rose Bowl and won another Heisman his senior year, but the "Bush Push" at Notre Dame and the memories of his time at USC will forever serve as high watermarks. He would probably trade his last five years in the NFL tomorrow if he could come back to USC for one more year and throw to the likes of Marqise Lee and Robert Woods.
Who knows, Leinart may even tell Barkley, who also attended Mater Dei High School, that very thing when Barkley calls him, and others, for advice. I bet Leinart's speech to Barkley will be similar to what Adam Sandler said to the grade-school kid in "Billy Madison" who couldn't wait to go to high school: "Stay here. Stay as long as you can. For the love of God, cherish it."
There's nothing left for Barkley to prove in college, but that's not really the point. Years from now, when his football career is over and he's looking back at his playing days, he'll have to ask himself if his rookie year in the NFL and the salary he made that one season was worth giving up what could have been a magical senior season at USC. A season in which he will be the favorite to win the Heisman and his team will be favored to win the national championship, and after which he will be the likely No. 1 overall pick in the NFL draft.
It would be a storybook ending for Barkley, whose dream of playing at USC turned into a bowless nightmare the past two seasons because of sanctions he had nothing to do with.
As Barkley walked up the tunnel of the Coliseum just before midnight for perhaps the last time, he couldn't stop smiling as he looked around and soaked in every moment. He certainly doesn't owe USC one more year, but one more year may turn into one of the greatest of his life.