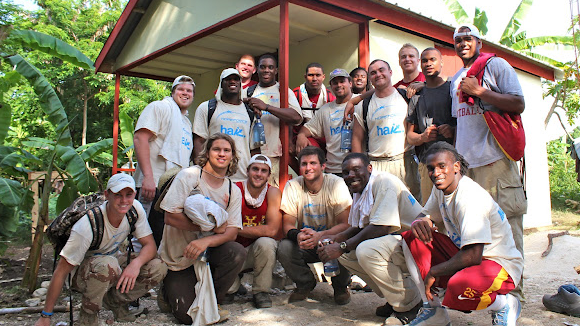 Lindsay Crouch/USCTrojans.com
The 16 members of the USC football team -- and Matt Barkley's brother, Sam, at the bottom left -- who made the trip to Haiti pose during a day of a work. They built four houses in four days.
As soon as the rain started pouring and the winds started spiraling a few hours after he and 16 members of the USC football team arrived in Haiti last Saturday, Les Barkley knew his guests were in for the experience of their lives.
Barkley, the father of USC quarterback Matt Barkley, had spent many months planning the house-building trip with Hope Force International and even pushing it forward and condensing it when the NCAA ruled it couldn't conflict with summer school at the university. He got so many requests from football players to come along, he had to turn many of them down for logistical reasons.
The group -- roughly two dozen strong, family members and staffers included -- ended up leaving Los Angeles late last Friday with 2,600 pounds of food and supplies in tow and getting to the two-terminal airport in Port-au-Prince on Saturday afternoon. Then they bussed the 20 miles to the beachside town of Leogane where they were staying, on the way seeing how much damage the January 2010 earthquake had inflicted on the capital.
They stopped and took pictures of the ruined presidential palace and took note of the makeshift homes many Haitians lived in, often just some sticks covering sheets or other type of bedding. Then, within a few minutes after arriving in Leogane, a standard summer thunderstorm hit Haiti. It rained a few inches in a matter of minutes and winds gusted by at 40, 50 miles an hour.
Les Barkley noticed the players looking around, looking at each other and putting two and two together. They had available shelter away from the rain -- but most of the hundreds of thousands of people they had just driven by didn't.
"In that moment, they realized that this is what these people put up with every day," Barkley said in a phone interview Thursday. "I think that was a striking moment for them."
The next day, the Trojans got to work. They visited local orphanages and schools to drop off the food and supplies and built four houses for four families over the next four days while split up into teams of four.
Each evening, when the day's work was done, the whole group would meet for a debrief with trip organizers and discuss what they'd seen. Les Barkley said he and his wife, Beverly, were struck by what players like Nickell Robey, Hayes Pullard and Dion Bailey had to say each night.
"To have them express to me and to Bev what they were feeling...That was a really special time," Barkley said. "I think uniformly they all had a sense of shock and bewilderment about what's going on.
"But, at the same time, I think they all had a sense that they were doing something worthwhile and doing something for other people."
Matt Barkley had experience with these type of trips before. He, his family and teammate Kyle Negrete went to Nigeria in December 2010 for 11 days, and he's done other similar ones in the past.
Negrete, the Trojans' punter, went to Haiti too. So did USC receiver Robert Woods and safety T.J. McDonald and a dozen other players. Linebacker Devon Kennard, one of the participants, had never been out of the country before leaving last week.
In that sense, the trip was a rude awakening.
"Haiti's a really tough place," Les Barkley said. "I've been all over the world doing stuff for upwards of 30 years. The combination of poverty and physical devastation in the country is really hard on anyone -- let alone for many guys who had never been out of the country before."
Among the restrictions the USC players had to abide by in Haiti: They couldn't eat lunch. They got a breakfast before leaving Leogane each morning and a dinner upon returning, but they had to rely on nutrition bars for fuel for the time in between. And they had to sneak behind trees to consume them to not attract attention.
"The Haitian people, they get one meal a day, maybe," Barkley said. "You can't be eating in front of them. It's just not right."
But Barkley said he was impressed by what his son's teammates were able to accomplish. With temperatures nearing 100 degrees each day, they fought through the conditions to complete their tasks -- which they had no previous experience with.
"They're not construction guys," Barkley said. "Not only are they soaking wet from sweat in a stressful environment and making sure they're not getting sick and all that, they're also doing something they're not used to doing."
Summer school started Wednesday. Some of the guys who made the trip are already back in the swing of classes and getting ready to get back into the summer conditioning program. But the hope is that the lessons learned and the thoughts discussed in Haiti will stay with the Trojans in the coming months and years.
And there's the 2012 football season, of course. Barkley said he understands that this trip will probably be tied in to the team's performance later on this year. And he said it's not a stretch to say that it really could end up helping them on the field.
"They talked a lot about that, about how this experience can help the entire team," Barkley said. "Yeah, we were the 16 guys that happened to be down here doing this -- the tip of the arrow. But I heard them talk a lot about representing the whole football program and the University of Southern California.
"Maybe when things get crazy -- which we all know they're going to -- and the adversity befalls the team, as it always does, maybe what gets them closer to getting through all that adversity is the result of the fact that they made this trip as a team. They'll have even a stronger ability to weather that adversity and move forward. That's our hope."