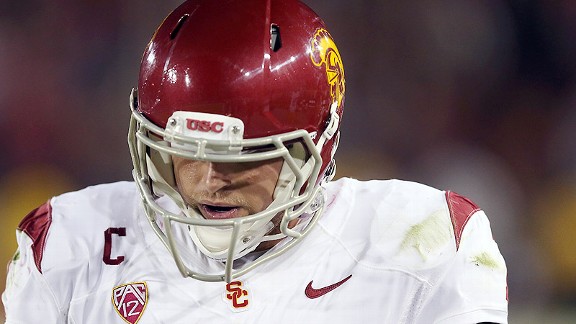 Ezra Shaw/Getty Images
Nearly three weeks ago, on a much happier night, Matt Barkley put his head down, slung his heavy football bag over his shoulder and took long, slow, powerful steps up the ramp leading from USC's home locker room at the Los Angeles Coliseum.
Most of his teammates had long since disappeared into that happy night to celebrate the Trojans' impressive opening night win over Hawaii that seemed to the college football world both a validation of USC's preseason hype and an announcement that the Trojans were indeed back after two years on probation.
Barkley, having been tugged at and pulled in a thousand different directions by a hundred different people all night, was among the last of the Trojans to leave that night. After all the attention, he was finally alone.
Alone with his thoughts, with the kind of night he'd had in mind when he decided to forgo the riches of the NFL for one last season at USC, and with that heavy bag that any student manager would've gladly lugged for him if he'd asked.
"You always carry that thing all by yourself?" I asked as he walked by. It was late, and he'd done enough interviews for one night. His parents, Les and Beverly, were waiting for him at the top of the ramp. I didn't have the heart to stop him.
"Always," Barkley said, looking up and flashing another bright smile.
It was classic Barkley. Smiling with the weight of the world -- or in this case an oversized, heavy bag -- on his shoulders. Head down and stubbornly determined when the ramp is the steepest. Polite and cheery to everyone, even when they ask too much.
For three years he has carried the USC football program through its darkest hours. Refusing to leave, then refusing to lose.
This year the USC football program was supposed to carry him. To a Heisman Trophy, to a national title, to all the things he meant when he said he had "some unfinished business" in announcing his decision to return for his senior season last December.
His plans had been laid well with the best of intentions.
But three weeks into the season, after a confounding 21-14 loss to No. 21 Stanford, they may have been laid to rest.
It's hard to say exactly why USC lost, except that at the end of the game it felt like they it was never really in it. Never comfortable against a more physical Stanford front seven. Never in sync on either side of the ball. Never dominant, as its talent would suggest.
The Trojans had advantages in speed, playmaking ability and experience. They used none of them.
They seemed tight and out of sorts. Nothing felt right.
Barkley spent much of the night running for his life as Stanford's defense manhandled USC's offensive line. His numbers in the loss were awful: 254 yards on 20-of-41 passing with no touchdowns and two interceptions. The running game was nonexistent after Silas Redd suffered an injury, and even before then, USC didn't establish it in a meaningful way.
But these were all symptoms of a problem that may have been inevitable for USC this season.
Sometimes you can just want it too much. Sometimes it means too much.
USC had looked good in its first two wins, but it also had looked tight. Or rather, tightly wound. Players spoke of striving for perfection and accepting nothing less.
After the 49-10 win against Hawaii, junior wide receiver Robert Woods said he would give the Trojans' offense a "C" for their performance. Barkley said he agreed with Woods. Trojans coach Lane Kiffin wasn't pleased with the performance at all.
On the sideline during the game, Barkley and sophomore wide receiver Marqise Lee uncharacteristically jawed at each other after Lee dropped a couple of passes and Barkley missed him on a third.
"You expect perfection. He knows what I'm expecting from him," Barkley said, explaining why he and Lee had words. "And if I don't put a ball where it should be, I expect him to get on me as well because it should be perfect."
Those were lofty goals. The kind of goals a team that wants to win a national championship sets. The kind of standard that can leave a legacy.
But it's also not how USC or Barkley earned their way back to national prominence over the past two years.
No, that journey was made with an easy, ebullient spirit. With a smile to the doubters and a wink at the critics.
The journey back was a lot like Barkley's walk up the steep ramp of the Coliseum a few weeks ago. Slowly, with determination under the weight of a heavy burden. Ending with a smile.
USC might have asked too much of Matt Barkley this year. Barkley might have asked too much of himself.
This loss doesn't end all of that. It's early still. Plenty of teams have played their way back into BCS contention after an early loss. The Heisman is won in November and December, not September or October.
It's a long way back, but there is a way back.
Barkley will need to help USC find it one last time.