After that gruesome three-point win over Virginia Saturday night -- which Lane Kiffin talks about as if it were a 20-point loss -- came this little nugget: Kiffin admits the Trojans got out-coached by the staff of Mike London, who got his first big-time job just a few months ago.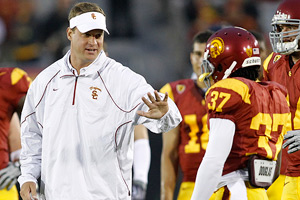 AP Photo/Danny Moloshok
USC is showing signs that the coaches' message isn't being heard.
So, the Dream Team Kiffin assembled -- with Super Bowl and national title experience all over the place -- got outsmarted by relative unknowns from a mediocre conference? After I heard it, I had to ask Kiffin to elaborate.
"I would say we were out-coached," he said. "We played at home in the Coliseum, the crowd was great, we've got really good players and the game was close. So, I'd say we got out-coached."
That comment seems worthy of further exploration, particularly since Kiffin -- a 35-year old on his third major head-coaching stint -- has surrounded himself with famous resumes. His dad, Monte, has a Super Bowl ring from his days as the Tampa Bay Buccaneers defensive coordinator. He and Tony Dungy invented one of the most widespread defenses in the NFL, the Tampa 2.
Other assistants brought impact pedigrees, too: ex-Mississippi head coach Ed Orgeron and well-respected assistants Kennedy Pola (offense) and John Baxter (special teams), among them.
So, are the coaches delivering the wrong message or are the players having trouble absorbing it? A team that commits 240 yards worth of penalties in its first two games certainly doesn't resemble a well-oiled machine.
In the category of fewest penalty yards allowed, USC ranks last in the NCAA. It's No. 120 out of 120. You can't get more undisciplined than that.
Pete Carroll used to hint that officials had it in for USC, because, well, USC is USC. Kiffin refuses to go there. People in Tennessee might not want to believe it, but this guy does have some admirable traits. He said Sunday night that notion of SC bias arose in one of his staff meetings and he quashed it immediately.
"That won't be said around here again. It has nothing to do with it," Kiffin said. "[Virginia] had a penalty called on them that shouldn't have been called, too."
Kiffin was referring to a long gain on a fake punt in the second quarter that was called back because of an illegal cut block. According to London, the officials told him after the game it was a blown call.
Kiffin's taking a new approach with the penalties starting this week. Last week, he posted the Pac-10 stats showing where USC ranked -- last -- in penalty yards. This week, he said he'll hardly mention it.
"Not that it won't be noticed, but we're not going to talk about it on a daily basis like we did last week and see if that somehow works," Kiffin said. "My predecessor made a whole big deal that whatever you talked about, you draw them towards, so maybe I screwed that one up."
There are some other signs that the coaches' message isn't having the desired effect. In the Hawaii game, the USC defense was slow to make adjustments, the Warriors' run-and-shoot improving as the game went along. When Virginia stacked the line with bulky defenders, the USC offense couldn't find a way to punish them with deep strikes. In one case, quarterback Matt Barkley underthrew Ronald Johnson, who was wide open, but maybe they should have tried it a few more times?
Yeah, you can say, the Trojans are 2-0. But that record has been the opposite of convincing. The Trojans are getting punished for it, too, having slipped four spots down to No. 18 in the Associated Press poll after the two ugly wins. Now, it's up to Kiffin and his many trusted advisers to figure out a way to be heard.