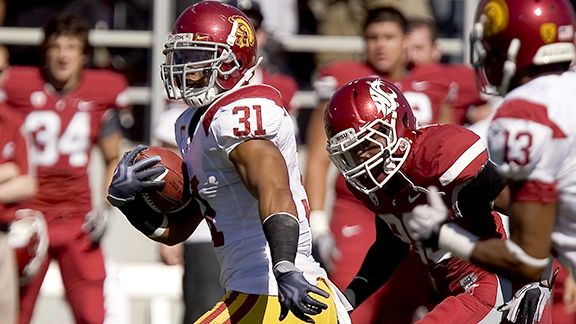 AP Photo/Dean Hare
USC fullback Stanley Havili accounted for 187 yards in offense against Washington State, and figures to get even more involved with the offense in the coming weeks.
Have the Trojans been playing the early part of their schedule with half a playbook behind their back? Ever so gradually, USC coach Lane Kiffin has given opposing staffs some new things to think about, new wrinkles to spend time scheming against.
Mostly, Kiffin has run basic offense, short screens and the occasional deep shot, with plenty of power running to keep things chugging along. Next, he started mixing speedy tailback Dillon Baxter into the game plan, a dash or catch here or there for seasoning.
Saturday at Washington State, he took another step toward innovative. He opened the game in a no-huddle tempo, though nobody ever found out because Stanley Havili took the first handoff and ran 59 yards for a touchdown, shedding tacklers as if they were small children. They didn't need another huddle.
Now, with the easy part of the schedule finally over, expect to see the offense open up a bit more in the coming weeks. Washington is coached by one of Kiffin's closest friends in the profession, ex-USC offensive coordinator Steve Sarkisian, who managed to burn the Trojans last year in Seattle -- the biggest win for his program before or since.
Kiffin at first didn't want to answer a question about how much of the offense he has been holding back.
"I'll say this, a lot of stuff we worked on throughout the off-season, we haven't done yet and will come out," Kiffin finally admitted. "Strategically, we saved it for certain games this season that you'll see them in."
It would be surprising if there weren't a few new wrinkles this week. You know Kiffin would love exert his mastery of the craft across from Sarkisian, another play-calling head coach.
At first, Kiffin tried to say he hadn't thought much about Washington or studied much of their tape. Two breaths later, he admitted the coaching staff has spent a lot of time preparing for the Huskies, who run an offense virtually identical to USC's.
"We put a lot of focus on Game 5 in the offseason, to coming back home and playing them, especially with them beating us last year," Kiffin said. "We'll see if it pays off because we have spent a ton of time on those guys."
Getting Havili more involved seemed like a good idea, regardless of the game plan. One of the team's steadiest, most productive receivers and a surprisingly agile runner for a fullback, he had been largely ignored through the first three weeks. Why? Because the Trojans' backup fullback is a freshman walk-on -- D.J. Shoemate transferred to Connecticut -- so they are deathly afraid of getting him hurt.
That's another part to the end of the "preaseason," as Kiffin termed those first four games. It might be time to stop babying players, pulling the starters in the third quarter or rotating more than usual. If you do that against Stanford, you're only going to hurt your own chances of winning this conference.
Until Saturday, Havili had caught five balls and carried it once for a total yardage of 78 without a touchdown. Saturday he caught five balls and carried four times for a total yardage of 187 and two TDs. He's a fifth-year senior. Kiffin said he set a good example by not grumbling about his lack of involvement early.
"It feels really good to touch the ball," Havili said after the game. "The last three weeks have been great also, because we came away with wins, so I'm happy."