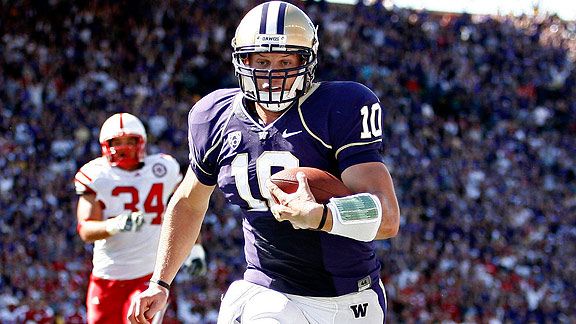 Joe Nicholson/US Presswire
Washington quarterback Jake Locker is coming off one of the worst performances of his career in a loss to Nebraska.
A month ago, Saturday's game between USC and Washington looked as if it would be the start of the Trojans' regular season after a four-week preseason. It was the moment everybody would find out who the Trojans really are.
After four struggling opponents, USC would run into a team that not only looked to be on the upswing but had slapped the Trojans with one of their four losses last season -- albeit with starting quarterback Matt Barkley sidelined because of a shoulder injury.

Now? Not so much. The Huskies are 1-2 and coming off an embarrassing 35-point home loss to Nebraska. Their lone win was over rebuilding Syracuse. If USC's performances have left people in Southern California wondering, Washington's games have left fans in the Northwest muttering.
"We have a horrible taste in our mouth from that last ballgame," Washington coach Steve Sarkisian said. "We just want to get rid of it."
A win over No. 18 USC at the Coliseum would be a massive dose of mouthwash for a program that was moving toward respectable. Washington went 0-12 the season before Sarkisian left a job as USC's offensive coordinator to take over. Last season's 5-7 finish hinted at better things to come, especially after that win over the Trojans at Husky Stadium.
Led by one of the best quarterbacks in the nation, Jake Locker, many people expected the Huskies to take another step forward in 2010.
Washington could hardly have looked much worse than it did against Nebraska. Locker, once viewed as the most likely No. 1 overall selection in this spring's NFL draft, had about as bad a day as you can have behind center. He completed only four of 20 pass attempts, that 20 percent completion rate the third-worst in the FBS since 2004.
He had nearly as many interceptions, two, as he had completions. He passed for just 71 yards and rushed for 59, including a touchdown.
Depending on your perspective, last weekend's open date came at the perfect time or the worst possible time. It allowed the Huskies some extra practices, but it also forced them to wait to take out their frustrations.
Sarkisian said it was more of the former than the latter. He returned to fundamentals with Locker, asking him to concentrate on keeping his feet set in the pocket. The Trojans figure to see a player looking to redeem himself Saturday. Not only did the Huskies' bowl prospects sink with that performance, but so did Locker's draft standing.
Of course, everybody has a bad day now and then. The Trojans are expecting to face Locker at his best and he sounded ready to put the Nebraska game behind him.
"I think it makes me better going forward. Obviously, it wasn't anywhere near how I want to play as an individual or how we want to play as a football team," Locker said.