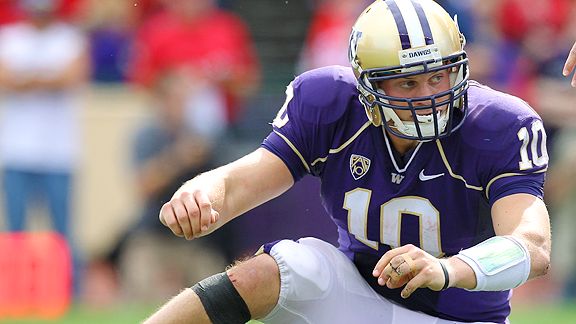 Otto Greule Jr/Getty Images
USC hopes Washington quarterback Jake Locker doesn't pick this week to break out of his recent slump.
USC is either catching Jake Locker at the perfect time, or at the absolute worst.
The Washington quarterback is coming off the sorriest passing performance of his career -- a 4-for-20, two-interception effort in Washington's 56-21 loss to Nebraska, which prompted USC coach Lane Kiffin to say, "One game is never going to define a player."
That may be true, but Locker's slump goes a bit deeper than one afternoon. After three games, two of which were losses, he ranks last in the Pac-10 in passing efficiency. USC's Matt Barkley ranks second to Stanford's Andrew Luck.

All of which raises the question: Is Locker about to bust out? There is a reason he's rated as a potential No. 1 overall pick in next spring's NFL draft. He's as fast as most safeties, has a powerful arm and is gradually learning to stay composed in the pocket.
He's such a good athlete, the Angels drafted him in the 10th round last year and signed him to a $300,000 contract hoping one day he might play center field for them. If he keeps playing the way he did against Nebraska, he might (they own his rights for five more years).
It might take Locker breaking out of this rut for Washington to pull off an upset Saturday night at the Coliseum.
USC is thinking that way. The Trojans are game-planning their defense around him. Keep him quiet and the Trojans should go into Stanford next weekend with a perfect 5-0 record. Let him get into a rhythm and they could have some anxious moments.
"Everything runs through him. He's the focal point and he's their Heisman candidate, so he's definitely a big target for us," USC linebacker Malcolm Smith said.
What worries the USC coaches most about Locker is his ability to improvise, to turn bad plays into big gains.
"It's when the play breaks down and now you're not in your normal fits and everybody's back in zone or man 20 yards down the field and he takes off and runs," Kiffin said.
Barkley and Locker have the same private quarterback coach, Steve Clarkson, and they've known each other for years. Barkley says he thinks Locker will come out of this just fine.
"I think he's doing the best he can with what he's got up there in Washington," Barkley said.
Locker clearly didn't handle what Nebraska's defense threw at him. According to Washington coach Steve Sarkisian, he got antsy in the pocket, moving his feet rather than staying set and delivering accurate passes. The Huskies' coaches spent most of their off week getting him to keep his feet under him.
"The beauty of Jake Locker is he has a competitive nature. He knows who he is not only physically but mentally," Sarkisian said. "We had a great week of work. He was hungry to practice and wanted to hit it right away Monday. Traditionally, that's a day off for veteran QBs."
Locker slipped behind Luck as the top QB available in next spring's draft, according to ESPN draft expert Mel Kiper. He could use a breakout performance Saturday to start climbing the charts again. The issue is fixing his accuracy, the one skill that has eluded him at times.
"I want to be perfect from every standpoint and do everything to the best of my ability to put our team in position to have the best success," Locker said. "After a game like that, you've got to look at yourself and see what you can to improve from the mistakes you made."
Three others to watch:
TB Chris Polk, SO.: He had the best year by a freshman tailback in UW history, rushing for 1,113 yards, and he's been solid through the first three weeks. He's another threat when Locker gets tired of running.
WR Jermaine Kearse, JR.: He had a monster day against Syracuse, catching nine balls for 179 yards and three touchdowns. He clearly is Locker's best receiver.
K Erik Folk, JR.: The younger brother of former Arizona and Dallas Cowboys kicker Nick Folk boomed a 54-yard field goal against BYU.