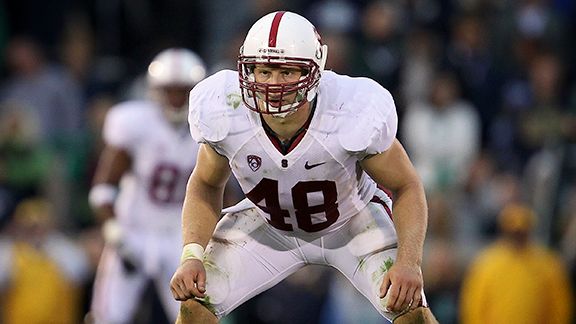 Jonathan Daniel/Getty Images
Owen Marecic of Stanford is the only player on a Football Bowl Subdivision team who is a two-way starter.
Stanford quarterback Andrew Luck is the player USC has spent the most time preparing for this week. Playmakers Chris Owusu, Ryan Whalen and Stepfan Taylor all could do more damage to them in Saturday's game in Palo Alto.
But the player they've seen the most on film has been Owen Marecic. That's because he shows up on both defensive and offensive tape. Marecic, a starting fullback and starting inside linebacker, is the only two-way player on a team in the Football Bowl Subdivision.

And, yeah, Marecic, 6 feet 2 and 244 pounds, stands out.
"He does the right thing all the time," said USC linebacker Malcolm Smith. "Whenever somebody does that, it doesn't leave a lot of room for whoever he's blocking to make plays. He definitely does a good job of eliminating his guy."
For Marecic to be competent at two positions -- and he's a lot better than competent as a fullback -- isn't an easy feat. For one thing, he has to split his practice time between the two positions. NCAA rules strictly limit players' practice time as it is, and Marecic's reps are divided between his two positions.
"It's just so hard to learn everything," USC defensive coordinator Ed Orgeron said. "The mental part is the hardest part. Some kids can handle it, but it takes a special one. And let me tell you, man, he's a good blocker. He puts a facemask on you."
Most two-way players in recent college football history have been wide receivers playing a little defensive back, or vice versa. Chris Gamble did it for Ohio State; Charles Woodson did it at Michigan and Champ Bailey did it at Georgia.
Those guys didn't get pounded -- or pound somebody else -- on every snap, as Marecic does.
He appears to have a bright future as a fullback. ESPN's Mel Kiper rates him the No. 1 senior fullback going into next spring's draft, just ahead of USC's Stanley Havili. He's a different kind of player than Havili, more of a battering ram than a playmaker. Marecic outweighs Havili by nearly 20 pounds, but until this season he hadn't scored a touchdown.
Last year, he led Heisman runner-up Toby Gerhart through holes and got only eight carries of his own. Through five games this year, he has 11 carries for 26 yards and two touchdowns.
Marecic can't say he doesn't know what he's putting his body through. He's a human biology major who interned over the summer as a research assistant at Stanford hospital. He was involved in a project looking at risk factors for infection after knee replacements.
He grew up in Tigard, Ore., outside Portland, so last week's 52-31 loss to the Oregon Ducks had to sting. Marecic had a career-high 10 tackles in that game.