OK, so it's not quite Midnight Madness, with no John Wall dances, no fans in attendance and a 5 p.m. start time.
But USC basketball officially opens its 2010-2011 season tonight at the Galen Center and there are plenty of reasons for excitement -- namely the three freshmen that you will be hearing quite a bit about this year when following the Trojans.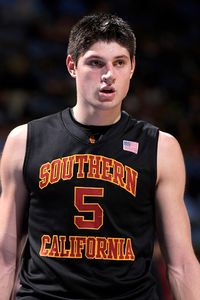 Stephen Dunn/Getty Images
The Trojans will rely heavily on Nikola Vucevic's offense and rebounding.
The trio -- point guard Maurice Jones, shooting guard Bryce Jones and small forward Garrett Jackson -- have been practicing together since June with fellow freshman forward Curtis Washington. The unrelated Joneses each possess college-ready shots; Jackson brings a host of skills still in development but consistent energy.
Bryce Jones and Jackson could conceivably open the season as the starter at their respective spots, and Mo Jones will assuredly begin the year as the team's No. 1 point until Fordham transfer Jio Fontan is eligible to compete at the end of the first semester. He averaged better than 15 points and nearly five assists a game as a true freshman at Fordham and could be a dynamic guard in the Pac-10.
Forward Nikola Vucevic will be the team's primary offensive option after earning Pac-10 Most Improved Player honors and averaging 10.7 points and 9.4 rebounds per game. Fellow forward Alex Stepheson is expected to start the season opener for the first time in a USC uniform.
Other likely contributors: senior guard/forward Marcus Simmons, a noted defensive stopper who has struggled with his shot at this level; senior Donte Smith, a combo guard who was at times electrifying off the bench last season and forward Evan Smith, a sophomore who played 33 minutes in the 2009-2010 season opener and then fewer than 100 for the rest of the season.
USC coach Kevin O'Neill, in his second season, hopes to mesh the lineup of young and old in his first opportunity to get the Trojans into the NCAA tourney. To that end, he has hired two new assistants: Tony Miller, the team's strength and conditioning manager last year, and juco import Dieter Horton.
We'll have a report from the season-opening practice later tonight. In the meantime, here are are video interviews from the Sayno Classic summer league with Bryce Jones, Mo Jones, Washington and Jackson, and a feature story on Fontan.