LOS ANGELES -- These are the charred-earth years for USC football, no matter what happens between now and Dec. 4.
The NCAA dropped the match when it stripped the Trojans of scholarships, barred them from two years of bowl play and slapped them with probation two months before training camp started. So, 2010 is all about finding tiny green shoots wending their way through the blackened brush.
And just when you thought this team was about to crumble, it may have started its rebound.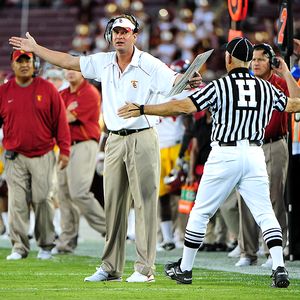 Kyle Terada/US Presswire
Two last-second losses on field goals. That's a regret of Lane Kifffin in his first season as head coach.
Stanford kicker Nate Whitaker booted the short field goal on Oct. 9 that sent the Trojans to consecutive last-second losses. The names had changed -- it was Washington kicker Erik Folk the week before -- but the story stayed the same.
In that Stanford game, coaches, fans and even disinterested observers saw this team fight stubbornly when it could easily have retreated. Matt Barkley nearly matched the brilliance of Andrew Luck, the Trojans offense played nearly as expertly as Stanford's older group. Special teams, spotty before, have continued to grow into a force.
More positive reinforcement came the following week when the USC defense, derided from all sides, finally showed up. The Trojans' seventh game was their best, a 48-14 beating of Cal that could have been worse. Was that game just a tease, or was it a sign of things to come -- maybe the foundation from which USC rebuilds the old glory?
"I think we're getting better," coach Lane Kiffin said. "It feels like it, like we're a team playing together more, with guys trusting each other more."
This week's bye affords the coaches valuable recruiting time and they'll be looking to plant seeds of future dominance. They'll be scouring the country for elite talent (scholarship limits give them no choice), the kind that can position USC to recover its dominance in the Pac-10 and reintegrate into the national-title picture.
Until then, 2010 becomes about the halting first steps that can one day get this team back in the race.
WHAT WE'VE LEARNED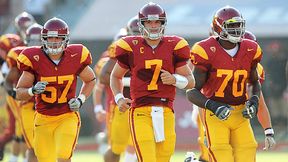 Win McNamee/Getty Images
Quarterback Matt Barkley has thrown 20 touchdown passes against four interceptions.
Barkley is good. He's not good for a sophomore or good for a guy playing under sanctions who has blonde hair and comes from Newport Beach. He's already one of the best quarterbacks in the country.
Eighteen starts into his college career, Barkley is showing everyone what all those recruiting experts were talking about. He might not be in the Heisman discussion at the end of this season, but he figures to be on the tip of everyone's tongue next September.
His passer efficiency rating of 167.3 is eighth in the nation and he has thrown for more touchdowns (20) and yards (1,869) than anybody ahead of him on the list.
Kiffin said he can see that the game is slowing down for Barkley. You could see it all coming together against Cal. He completed 25 of 37 passes for five touchdowns. He hasn't thrown an interception since the Washington State game in Week Four.
Something happened in that Stanford game that catapulted USC's passing offense into new territory. The Cardinal elected to lock a safety on Ronald Johnson at times, freeing freshman Robert Woods up with single coverage. A star was launched. Woods caught 12 balls for 224 yards and two scores. He followed it up with another dynamic performance (116 yards, two touchdowns) against Cal.
Woods' emergence has hurt Johnson's numbers -- and might affect his draft status -- but it will help USC's offense. Johnson is rolling with it. He helped facilitate Woods' rise when he organized pre-camp workouts with Woods and the other freshmen receivers last summer.
"Put the ball in their hands, they're both making plays," Barkley said. "That's why I don't lock into people, because then it messes with my head. I'm just keying my reads and seeing what's open and getting the ball to our play makers."
WHERE DO THEY GO FROM HERE?
That depends largely on the defense. Was Saturday's performance against Cal a fluke or was it the first step in the defense's rebirth? Most people expected improvement from this group, but instead they saw missed tackles and hesitant play through the first six weeks.
Under Pete Carroll, the Trojans were known for playing stingy, bend-but-don't-break defense. A few springs ago, the Trojans flooded the NFL with talented linebackers, leaving its own cupboard bare. Can this group live up to that heritage?
Kiffin doesn't mince words. He places the onus for those two season-altering losses squarely on the defense, which happens to be run by his dad, Monte Kiffin. Washington quarterback Jake Locker and Luck each executed game-winning drives that met scant resistance in the final minutes.
"If we could have just played somewhat bad and not horrible defense in those two games, we'd be sitting here at 7-0 pretty easily," Lane Kiffin said.
Right away, we'll find out just how confident these guys really are. Oregon is the No. 1 team in the nation primarily because it possesses the No. 1 offense in the nation. The Ducks play fast, they know what they're doing and they can score in a heartbeat. Worse, their offense -- a spread option -- might as well be specifically devised to zero in on the weaknesses in USC's pro-style defense.
Trojans nose tackle Jurrell Casey was asked in Saturday's press conference whether a dismantling of Cal -- which runs an NFL-style offense -- meant anything when it comes to slowing down Oregon. Casey was honest. He said he had no idea.
That's when Barkley stepped in for him. He said the offense has been so successful because each individual has concentrated on his role, just what the defense is attempting to do. In other words, don't get swallowed up by the big picture. The big picture isn't kind to USC right now.
"What's going to be important [against Oregon] is worrying about ourselves and what we're supposed to be doing, where we're supposed to be," Barkley said. "When 11 guys are doing that, you're going to be successful."
Add it all up on Dec. 4 and we'll know where this team is headed.