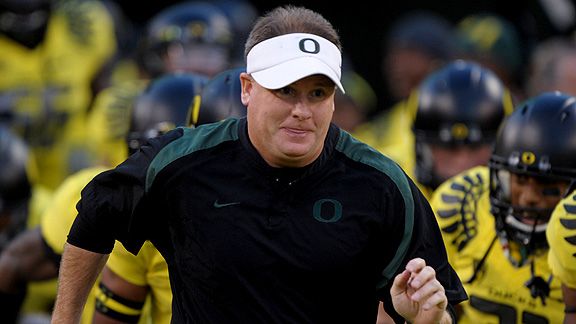 Kirby Lee/US Presswire
Oregon coach Chip Kelly is working extra hard to make sure his team is focused this week.
Watching Oregon play this season brings to mind Chick Anderson's call from the 1973 Belmont Stakes, the one Secretariat won by 31 lengths. This Oregon offense is performing like a tremendous machine.

Ask UCLA. It just saw the Ducks turn into a lawn mower and beat them 60-13 in Eugene. That wasn't a terribly surprising result. It's what this team has been doing.
The Ducks (7-0, 4-0 in Pac-10), as many people know, are No. 1 in the nation in total offense, No. 1 in scoring offense (at better than 55 points per game) and No. 1 in the Associated Press poll. Yet more fabulous things this offense is doing:
* Outscoring its opponents 156-23 in the second half.
* Allowing a total of seven fourth-quarter points.
* Mounting 16 touchdown drives of less than 56 seconds and 22 TD drives of five plays or fewer.
* Watching running back LaMichael James average 161.8 yards per game, No. 1 in the nation.
The most painful part of Oregon's rise, from a USC fan's perspective, has been who they clambered over. The Ducks have won seven of the last 12 times they have played USC and two of the last three. Last year's 47-20 trouncing in Oregon was the first blowout loss in the Pete Carroll era. It's no longer a Trojan conference, but a Ducky one.
As always, there are questions. People wonder how good the defense is. Others question the Ducks' schedule (they have played only one top 25 team so far). Still other people wonder how well Oregon will handle success. Can it maintain that edge to keep itself at the top, considering it hasn't been there much before. Until the Ducks got that No. 1 ranking a couple of weeks ago, the AP had never had them in the top spot.
Coach Chip Kelly seems to be working extra hard to get his team's attention this week before Saturday's game against USC (4-2, 1-2) at the Coliseum. This week looms as one of the notable hurdles between Oregon and the BCS title game, particularly with the Trojans coming off that 48-14 win over Cal followed by a bye week.
According to the Oregonian, Kelly had speakers set up to blare USC's touchdown song, "Conquest," during Monday's practice in Eugene.
"Hopefully we won't hear it on Saturday," quarterback Darron Thomas told the newspaper.
Kelly also has been doing his best Lou Holtz impersonation, gushing about USC, or at least its players.
"USC is the most talented team in our league, by far," he said. Which, of course, begs the question: Why are they ranked 23 spots lower and carrying two more losses? Maybe we'll find out Saturday, or maybe we won't.