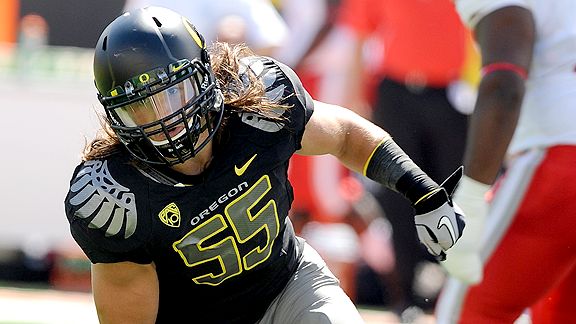 Steve Dykes/Getty Images
Casey Matthews says he would've accepted a scholarship offer from USC.
You would think USC might have reserved a scholarship for linebacker Casey Matthews strictly based on his genes.
His dad, Clay, and his uncle, Bruce, both were All-Americans for the Trojans a generation ago before embarking on long NFL careers. His brother, Kyle, lettered at safety for the 2003 national championship team and his brother, Clay, worked his way up from walk-on to starter. Now, he's one of the most dominant pass rushers in the NFL with the Green Bay Packers.

As Casey Matthews notes, he comes from a long line of late-blooming Matthewses.
But the year he was coming out of Oaks Christian high school, the Trojans' coaches had already locked up Chris Galippo, a more decorated recruit, and they never offered Matthews a scholarship. He wanted the chance to play in the Pac-10 and compete against his brother, so he elected to head north and become a Duck.
"If you had asked me four years ago if I would have accepted an offer from USC, I would have jumped at it," Matthews said. "But I'm really glad the way things worked out."
While Saturday's game is Homecoming for USC players and students, it's also a homecoming for Matthews. Most of his family will be in the stands.
While the Trojans, ranked No. 24 by the Associated Press, are laboring under severe NCAA sanctions and barred from the post-season, Oregon -- No. 1 in the AP -- is the toast of college football and many peoples' favorites to win a BCS title.
Matthews, a senior, has done a little of everything for a Ducks defense that has gotten little of the credit for this team's ascent up the national rankings. He's third in tackles, tied for third in sacks, second in interceptions and leads the defense with three fumble recoveries.
And yeah, Matthews has improved season by season. He came out of high school barely touching 6 feet and weighing 215 pounds. Now, he's 6-2, 244 pounds and he plays with the long hair and wild abandon that has made his older brother such a terror for opposing offenses.
"I always used to get mad at Casey because he would always be in my way, because he was a lot slower than me," said USC tailback Marc Tyler, a high school teammate. "But I've watched him on film now and he's doing good. He looks like Clay out there with the hair and everything."
Because the Ducks' offense is so prolific, the defense often is viewed as a sideshow, or worse. ESPN college football analyst Robert Smith called the Oregon defense a "fraud," and predicted it eventually would be exposed this season. The Ducks are No. 30 in the NCAA in total defense, but they lead the nation in turnovers, with 25.
They're also among the best-conditioned defenses in the country because they have to practice against the Oregon offense and they spend so much time on the field. The Ducks have possessed the ball an average of 26 minutes per game while leading the nation in total offense and scoring.
"If I were watching our team, I definitely would be more a fan of the offense. It's fun to watch," Matthews said. "We're definitely overlooked here, but as long as we win games, it doesn't matter. People can say what they want."
Matthews exchanges text messages with his brother, Clay, all the time, but he typically talks to him only on Saturdays before Oregon's games. He doesn't expect any detailed scouting reports this week, because his brother wouldn't want to betray any of his former teammates.
"He usually just tells me to rep the Matthews name," Casey said.