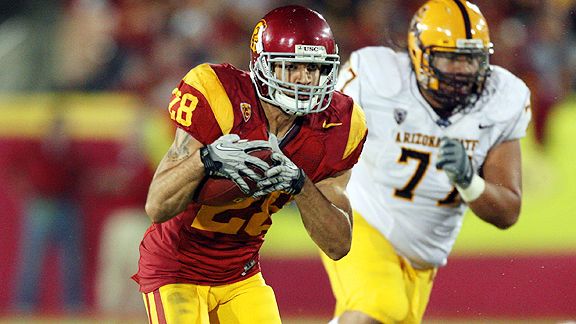 Charles Baus/Icon SMI
Freshman tailback Dillon Baxter had an up-and-down Saturday: His 31-yard run was nullified by a holding call and he also missed a block.
Ed Orgeron was talking about his defensive line, but the veteran USC coach may as well have been talking about the entire Trojans roster.
Orgeron noted that the "wild bunch" he coached in 2003, Kenechi Udeze, Omar Nazel, Frostee Rucker, Shaun Cody and Mike Patterson, took more than three years to come together before they led the nation in rushing defense. He cautioned that it's going to take time for this current crop of Trojans' defenders to reach their peak, as well.
"They're as talented as any group I've had here," Orgeron said.
This is a perfect season for USC fans -- rarely known for their patience -- to sit back and give it some time. Since the Trojans aren't eligible for a bowl game this season or the next anyway, why not enjoy the process? Don't sweat the small stuff.
Saturday night's wild shootout with Arizona State gave a glimpse of what USC fans can expect as this team tries to grow up before their eyes. The Sun Devils are the one team in the Pac-10 younger than the Trojans, so the game was full of silly mistakes and youthful excess. Wasn't it great?
You can see this USC coaching staff tinkering with its lineups, trying -- in part -- to find out which of these young players are going to be impact performers for them in coming seasons. The youngsters on the spot Saturday were true freshman tailback Dillon Baxter, who snuck in front of Marc Tyler with a good week of practice and redshirt freshman cornerback Torin Harris, who played most of the game as a nickel back.
How'd they do? They played, um, like young guys.
"Torin didn't play very well. I was disappointed," coach Lane Kiffin said. "He had a couple missed tackles and got beat on the first play of the game [a 54-yard completion]."
But Harris also raced down the field a blocked point-after attempt for a three-point swing in USC's favor in a game they wound up winning by one. What did he do after that? Something silly. He dove over the goal line as he was scoring, prompting a 15-yard penalty and prompting Kiffin to call the act "extremely selfish."
Baxter had a similar hodge-podge of good and bad. His best run, a 31-yarder, was nullified by a holding call on guard Khaled Holmes, whose defender would have had no impact on the play. He also missed his block and a defensive end forced quarterback Matt Barkley into one of his two interceptions.
"He showed some growing pains, which is usual for true freshmen," Kiffin said. "That's what you get when you commit to playing your younger guys."
This season is all but meaningless at this point. Is it really such a big deal that they go 9-4 rather than 8-5? So look for Kiffin to continue to mix in his least-experienced players in situations so he can evaluate them under game situations. It might make the Trojans less likely to knock Arizona or Oregon State out of a decent bowl game, but it might make them more likely to win in coming seasons.
Which do you think their priority is?