It's not often that coaches are willing to pin the success of their entire squad on one or two players.
But second-year Trojans coach Kevin O'Neill is more than willing to do just that with his 2010-2011 squad, which officially begins play Saturday at 1 p.m. at the Galen Center against UC Irvine.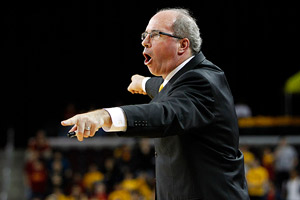 Ric Tapia/Icon SMI
USC coach Kevin O'Neill isn't shy to tell you the Trojans will go as far as big men Nikola Vucevic and Alex Stepheson will take them.
See, O'Neill freely admits his team's success this year will depend -- heavily -- on the big man duo of junior Nikola Vucevic and senior Alex Stepheson. The two combined to average more than 19 points and 16 rebounds a game last season as Vucevic earned conference most-improved honors and Stepheson played his first season for the Trojans after transferring from North Carolina.
Behind them, the Trojans' cupboard is just about completely bare on the front line -- and most other places on the court, too.
"We're gonna go as far as Nik and Alex take us," says O'Neill, who went 16-14 and 8-10 last year, his first on the job. "If they constantly get in foul trouble or get injured, we're gonna struggle. We have two post players with any experience at all on the roster -- after that we'd have to play down-sized with four out and one in.
"It's imperative those guys have a great year. I think they are the types of guys that can really carry a team and lead a team."
And it doesn't stop there. According to O'Neill, USC's success also depends squarely on senior swingman Marcus Simmons, a noted defensive stopper who has struggled offensively in years past. Simmons averaged just three points a game last season while playing consistent minutes, but his shot is thought to be an improved commodity this fall after he spent the summer fine-tuning it.
Says O'Neill: "He's a guy that's going to have to have a solid year for us to be any good at all."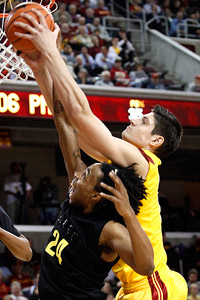 AP Photo/Lori Shepler
Nikola Vucevic averaged 10.7 points and 9.4 rebounds per game last season for the Trojans.
The roster: Vucevic and Stepheson are O'Neill's only returning starters, with 2009-2010 guards Mike Gerrity, Dwight Lewis and Marcus Johnson all graduating. Taking their places in the starting lineup are likely to be Simmons and two freshmen, the unrelated Bryce Jones and Maurice Jones.
Both Joneses will be asked to play big minutes until Fordham transfer Jio Fontan becomes eligible at the end of the first semester.
Off the bench come guard Donte Smith and forwards Garrett Jackson and Evan Smith. Freshman big man Curtis Washington, sidelined for much of fall practice with a groin injury, also stands a small chance of finding his way into O'Neill's rotation.
Smith, a senior and one of the team's three captains, started the Trojans' first eight games at point guard a season ago while Gerrity was ineligible but saw his minutes dramatically reduced come conference play. He carved a niche as the season wore on, though, and averaged almost 16 minutes per game during the last seven contests.
Evan Smith's season followed a similar trajectory, as he played 33 minutes in the season opener as a true freshman but only 87 the rest of the year. Jackson, a freshman, was a late bloomer out of Westview High (Portland, Ore.) as a do-everything small forward and was slowed in practice with a fractured nose that took about a week to heal.
The offense: Vucevic paused when asked after the Trojans' only open exhibition game -- a 20-point win over NAIA school Point Loma Nazarene last week -- if the Trojans were ready to speed up the pace of their game, as O'Neill has implied he will attempt to do this season.
"I think we need to run a little more first," he said. "We have a good point guard for that and a good team that can run, but I think if we do it more it'll be easier for us to score.
"We would rebound the ball and just start jogging up the court but I think we need to start running more. We are in pretty good shape to do that, though."
Maurice Jones, all 5-foot-6 and 150 pounds of him, is that point guard. 'Mo,' as he is called by O'Neill and his teammates, poured in the points as a score-first point guard in high school, averaging 30 points per game as a senior at Arthur Hill High in Saginaw, Mich. But his role with the Trojans will be different, as he is asked to distribute the ball down low time and time again and mix it up on occasion with designed penetration.
Bryce Jones, a Nick Young type, will get his shots from the perimeter and can also create for himself and others as a slasher. Donte Smith was also a capable scorer in the preseason, putting up a game-high 20 points in the Cardinal and Gold scrimmage while playing for the reserves.
The defense: One thing's for sure: this team will be running around on defense, man-to-man pressing on all made shots and dead balls and staying true to O'Neill's big-effort ideals.
The Joneses will help a lot, too. O'Neill says both -- while flawed defensively -- have natural instincts that allow them to steal the ball with regularity and produce turnovers.
Those flaws? Just as the rest of the freshmen, "none of them know how to play help-side defense," O'Neill said. "They just don't."
But Simmons can often neutralize an opponent's best player, and Vucevic and Stepheson can make the key an unfriendly place for players looking for an open look.
Said Vucevic: "People just can't drive at us and get easy baskets because we are a presence in there.
"We're gonna get a lot of blocks."
The point: O'Neill calls Mo Jones his own personal "one-man press break," a term for what the speedy guard can do if teams try to press the Trojans.
The coach knows Jones' size will be questioned this season and his play scrutinized more than the typical freshman, especially while the 18-year-old runs the show for the first nine games.
"I think the proof will be in the pudding," O'Neill said. "You can talk about what guys are gonna do or not gonna do before they do them, but as we play games people are going to see what a big impact player he is."
As for the other point guard, the highly-touted Fontan will make his USC debut Dec. 18 against Kansas. At that time, he will likely either push Mo Jones to the bench or play alongside him in a small backcourt.
Fontan's aware of the similarities between his situation and Gerrity's a year ago. In 2009, Gerrity, a transfer from Charlotte, became eligible on Dec. 19 and immediately led a struggling USC team to a surprise home victory over Tennessee.
"My goal is not to top Gerrity in any way," Fontan says. "It's just to come in and try to mesh well and make the team better. I just want to come in and add to what we're originally doing. Hopefully we can be undefeated, so I just want to carry that on."
The outlook: O'Neill said after the Trojans' first practice this fall that the NCAA Tournament is the team's official goal, and Stepheson has firmly declared that as well.
But the NIT might make a little more sense at this point. Picked to finish anywhere from fifth to eighth, it's not unreasonable to imagine this team finishing third in the conference behind Washington and someone else and qualifying fairly easily for the NCAA Tournament. It's also not unreasonable to imagine USC struggling to win 15 and finishing ninth, in front of only lowly Oregon.
"I don't know what a reasonable expectation for us is," O'Neill says. "We're going to have to grow into each other as a team.
"Right now, we're still finding our way."