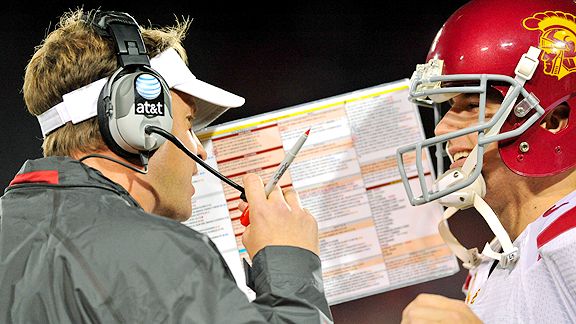 Chris Morrison/US Presswire
USC coach Lane Kiffin, instruction QB Matt Barkley at Arizona, wishes his team was not banned from the postseason.
For the second night in a row, Lane Kiffin called it "sad" that his team won't be eligible to play in a bowl game this year. It's starting to feel as if he might be entirely right.
Kiffin said it Saturday amid the low rumble of the equipment trucks near USC's locker room at Arizona Stadium, after his biggest win as the head coach. The Trojans had just knocked off No. 18 Arizona in the desert to claw back into the Associated Press Top 25. And he repeated it Sunday in a conference call with beat reporters.
The holiday season is just a couple of weeks away, bowl season is around the corner and all USC can look forward to are the last three games, against Oregon State, Notre Dame and UCLA followed by final exams.
This team could have quit a long time ago. A lot of people figured it would. Why not? What was there to play for?
Instead, the Trojans are playing their best football in mid-November, barging through all sorts of obstacles and coming closer to finding an identity as each game passes. In an ideal world, USC would have its national TV game in late December to show the country the NCAA hasn't squeezed all the fun out of its life.
The seniors feel the sting the most.
"Getting closer to that, it's become more of a reality," Kiffin said. "You look at them, you try to motivate them for the remaining games without that at the end of it. We're going to do the best we can coaching it and our younger guys are going to play for those [seniors]."
Not even the fifth-year seniors on this squad played with Reggie Bush, who, of course, was the cause of all this NCAA-sanctioned grief. Quarterback Matt Barkley was a freshman at Mater Dei High when Bush was finishing up his storied, retroactively ineligible career at USC. Some of these guys were still in middle school and had never played a game of competitive football in their lives.
Yeah, most of them knew what they were getting into. You can make that argument. The NCAA was already sniffing around campus when most of them lined up their recruiting visits. They knew something bad could happen to the program at any time and they chose to ignore all the warning signs. You could argue the shrewder ones – including a hulking left tackle now at Miami named Seantrel Henderson – took their talents somewhere else, somewhere not under an NCAA looking glass.
Still, as Kiffin said, bowl season approaches and it just doesn't feel right that these guys won't get a chance to finish out the process. When it's all said and done, where would they have stood? Perhaps a resounding Holiday Bowl win away from another top 10 finish? Or, maybe not. Maybe it would have been a sad, little-viewed loss in some dusty town in Texas, say El Paso.
The sanctions will punish some of the people they're intended to hurt, administrators who didn't try hard enough to dig up improprieties, boosters who didn't care if there were any. But they're also going to punish a resilient bunch of young players who won't get to experience the climax their season builds toward.
It might be a lesser injustice, maybe the smallest kind there is, but it's an injustice nonetheless.