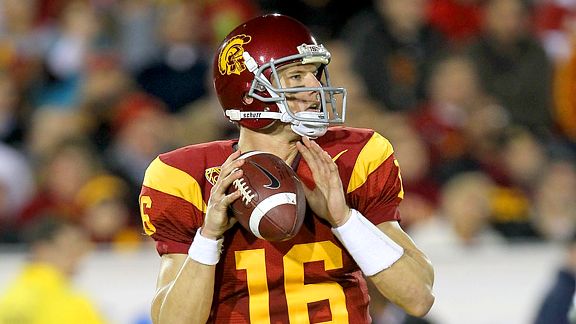 Stephen Dunn/Getty Images
Mitch Mustain started for USC on Saturday in place of injured Matt Barkley.
LOS ANGELES – It was the pass, the catch and the play that would have defined the careers of Mitch Mustain and Ronald Johnson at USC. Despite playing out the stretch of a season most chalked up as meaningless before it ever began, Mustain and Johnson nearly etched their names into the history of a storied rivalry that pays no attention to meaningless games and down years.
For all the acrobatic catches Johnson had made during his career at USC, this would have been his easiest. With no defender within 10 yards of him, thanks to a beautiful double move that left Notre Dame safety Harrison Smith on the ground, and the end zone just 15 yards in front of him, Johnson looked at the ball fall between his numbers and then bounce off his body.
Johnson stayed on the turf longer than usual after the dropped pass as the rain poured down on his helmet. He looked at his hands, almost in disbelief that the ball wasn't in them, before he got up and looked at the end zone he should have been standing in.
For all the errant and off-the-mark passes Mustain has thrown in practice and in relief duty during his career at USC, this was the best pass he'd ever thrown. With perfect protection, he dropped back, moved up in the pocket and followed through on a perfect 30-yard pass to Johnson in stride.
Instead of celebrating a potential winning touchdown with 1:17 left, both players walked off the field in a daze after Mustain threw an interception to Smith five plays later.
Johnson looked as if he were somewhere else as he slowly walked off the field at the Coliseum. As reporters asked him about the play, he stared into the distance and didn't say a word. After being consoled by former USC receiver and tight ends coach Keary Colbert in the tunnel, he took a seat on a golf cart parked outside the locker room and sat there for a few minutes with his head down.
An hour later he was escorted out of the locker room by USC sports information director Tim Tessalone, who said Johnson, with a glazed look still on his face, would answer only two questions.
"I felt like I should have made the play," Johnson said. "I let my team down. It's tough to bite this nail right now, but Mitch made a great pass. I should have caught it. There's nothing I can really do about it now."
While Johnson took the drop and his final loss at the Coliseum hard, Mustain's demeanor after the game didn't change much. He never has shown much emotion during his time at USC. Despite winning the first eight games as the starting quarterback at Arkansas before transferring to USC in 2007, he was forced to sit behind John David Booty, Mark Sanchez, Aaron Corp and Matt Barkley the past four years. He's been like Milton from Office Space, through it all; never raising his voice or getting overly agitated no matter how many times he has been pushed aside.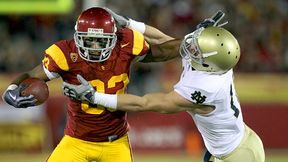 Stephen Dunn/Getty Images
Ronald Johnson, left, shakes off Notre Dame safety Zeke Motta during the first half of Saturday's game.
This was his chance to set the Coliseum on fire before his party was literally and figuratively rained on. While no one will compare Mustain to some of his more talented predecessors, his receivers did him no favors Saturday, dropping pass after pass, culminating with Johnson's drop, which robbed him of a storybook ending to a rollercoaster career.
"It's part of the game, you drop balls," Mustain said. "That one would have probably changed the outcome. I don't know if there is a worse feeling than that. It was unfortunate that Ronald dropped that one, but we had other chances and we didn't execute."
Mustain was slightly more diplomatic about the drop than USC coach Lane Kiffin, who has continually compared this season to Pete Carroll's first at USC in 2001 and now has a new similarity to add. Notre Dame's 20-16 win over the Trojans is their first since 2001.
"I was shocked," Kiffin said. "It was something we had worked on for that coverage. It was just a shame because now you have a whole locker room and the whole Trojan family all down in the tank at one play that completely changes the whole outcome."
It wasn't surprising considering Kiffin has thrown kicker Joe Houston and defensive players under the buss after close losses to Washington and Stanford, but the players in the locker room made it a point to rally around Johnson in the locker room. All the seniors spoke to him and told him not to let that one play define his career at USC.
"A lot of guys talked to him and told him to keep his head up," said cornerback Shareece Wright. "He's a great football player and he'll make that catch any day. He's one of our best receivers and he's wide open and he dropped a pass like that, but it happens in the game of football."
While Johnson may be able to redeem himself next week against UCLA at the Rose Bowl in his last game as a Trojan, Saturday's loss may turn out to be Mustain's first and last start as a Trojan. Matt Barkley essentially promised he would play next week despite recovering from a high ankle sprain. Mustain simply shrugged his shoulders at the possibility of playing next week as he always has, adding USC will have to play better regardless of who lines up under center.
"We have to be able to execute better on the whole," he said. "We have to finish drives and close plays. We have to be able to do it all better."
No matter how much better they execute next week, however, Mustain and Johnson will never again be involved in a play as big as the one they missed against Notre Dame.