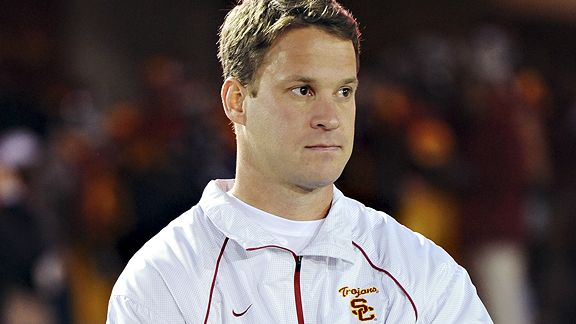 Chris Williams/Icon SMI
USC coach Lane Kiffin says playing Notre Dame is for fans and alumni, but UCLA is the players' game.
What are they playing for?
How many times have you heard that one? It's the recurring question through this USC season, popping into interviews, conversations, sports-radio banter and blog posts. People have wondered about the Trojans' motivation since the NCAA came down with a two-year bowl ban way back in June.
They wondered again after Washington ended USC's unbeaten streak before it was really worth mentioning, just 4-0. After they couldn't take down Pac-10 heavyweights Stanford or Oregon, it came up again.

All along the way, it proved surprisingly moot. Though nobody else could see much reason to fight on, the players bounced back from week to week. Maybe they were playing for themselves or maybe they were playing for one other, but it didn't look as if they were quitting.
After losing to Washington, they nearly beat Stanford on the road. They pummeled Cal and made it respectable against Oregon.
Then the schedule maker did them a favor. Even after their worst game of the year, a 36-7 spanking at Oregon State, it looked as if there would be plenty to keep their attention over the final two weeks. They were playing against their traditional rivals, Notre Dame and UCLA. Maybe the question could be buried, at least until next spring.
Now, after Saturday night's loss in a cold drizzle to Notre Dame, the state of the Trojans' psychology is more in question than ever before. You could see the desperation in receiver Ronald Johnson's very being after he dropped what would have been the winning touchdown in that game. A day later, coach Lane Kiffin said Johnson's angst was still lingering.
"I don't know if I've seen a player ever take a game or play harder than Ronald did," Kiffin said.
Of course, Johnson's gaffe wasn't an isolated mistake. Receivers dropped balls all evening. Backup quarterback Mitch Mustain overthrew them repeatedly and inexplicably threw up a wobbly prayer before he had to at the end of the game. Players missed blocks, turning the Notre Dame defense into a wrecking ball nobody would have expected it to be. Most baffling, USC couldn't run the ball. Its defense had one of its best nights until the game was on the line. Then, it retreated for 77 yards, Notre Dame pushing in the winning touchdown.
So, Johnson wasn't the only Trojan feeling low Sunday evening, the fear of losing to their crosstown rival the only apparent motivation left worth talking about. USC's veteran players are used to talking about national-title aspirations, not splitting hairs between an 8-5 and a 7-6 season. Even if they could go to a bowl game, would anyone really care if it was the Alamo Bowl or the Fight Hunger Bowl?
Kiffin says he is worried about a hangover from Saturday night. This loss might have been the most painful since 2006's 13-9 loss to UCLA.
Kiffin spent last week pumping up his players with stories of the players who had gone before them in the Notre Dame game. He might want to take a cue from his predecessor, Pete Carroll, and approach the UCLA game as if it were just another Pac-10 meeting. This USC team has had trouble funneling its emotions at times.
Saturday's loss ended an eight-game winning streak against Notre Dame. To lose a shorter streak, just three games, against UCLA would make this entire season of practices, which began in the earliest days of August, seem like a waste of time.
Kiffin's hope is that the players make this one personal. Most of them have teammates or friends who play at UCLA. Almost all of them have friends or family members who root for the Bruins. What are they playing for? Maybe it's just to avoid embarrassment, but it's something.
"I've always considered this the players' game," Kiffin said. "Notre Dame is for fans and alumni."
So, yeah, ultimately, they've got to do it for themselves.