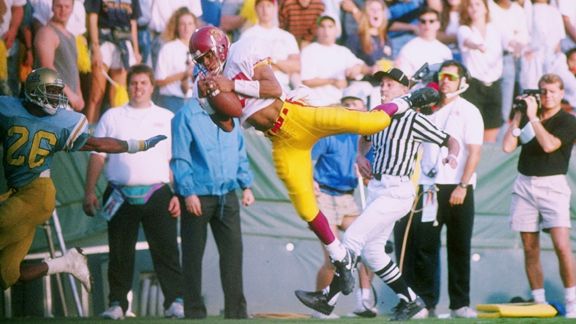 Getty Images
USC receiver Johnnie Morton makes the winning catch in the Trojans' 45-42 victory over UCLA in 1990.
Johnnie Morton figured he had just won the game when he came down with a 21-yard touchdown pass with a little over three minutes left.
It had better be over, he thought. Morton separated his shoulder while crashing to the ground after the catch and he didn't even want to think about going back in. But UCLA started marching and Kevin Smith plunged into the end zone to give the Bruins a 42-38 lead with 1:19 to go in that memorable 1990 game, the highest-scoring ever played between the two teams.

"I'm like, 'They're not going to score. There's not enough time.' Then, they scored and it was like, 'Uh-oh,' " Morton said. "I wasn't sure if I could run any more. It was burning."
Lucky for USC, it turned out he could run. He could also catch.
The Trojans marched quickly once again -- defense wasn't a big commodity that day -- and, with 16 seconds left, quarterback Todd Marinovich threw one up to the left corner of the end zone. Morton leaped to bring it down for the winning score.
Morton, who played 12 seasons in the NFL, said it was the most fun he ever had on a football field and "it's not even close."
That USC offense didn't lack for confidence. Before the winning play, Morton remembers winking at Marinovich to let him know he was ready to make the winning play. He also remembers Marinovich pointing at UCLA defensive back Dion Lambert before the snap. Lambert had been playing aggressive man-to-man defense on Morton the whole game.
"You can see it on the film. He was like, 'I'm coming your way,' and Lambert was like, 'No, you aren't,' and he still threw it. It was kind of like, 'That's your [behind],' " Morton said.
Marinovich doesn't remember it like that. In fact, it's quite the opposite, he said. He was pointing at Lambert, because he planned to throw the ball to Gary Wellman in a seam between two safeties on the other side. But Wellman was slow to get out of his break, so he came back to Morton on the fade route.
"That was one of my fondest memories by far," Marinovich said.
It wasn't the USC-UCLA game with the highest stakes. The Bruins were unranked and USC wasn't bound for the Rose Bowl that year. But it was among the most entertaining games the teams have played. They combined for 42 points in the fourth quarter and exchanged the lead four times overall.
Morton went on to set a school record for receiving yards (1,520) in his senior season and was taken by the Detroit Lions in the fourth round of the NFL draft in 1994. He later had a game-winning catch in the NFL, but said it was nowhere near as fun as that day against UCLA.
One was for school pride. The other was for work. He remembers when the Lions released him after the 2001 season, in which he had 1,154 yards and four touchdowns.
"They sent me the offensive MVP trophy and the cut letter in the same box," Morton said. "It was then I knew it was a business."
Morton was bored after he retired when a fight manager approached him in a café to see if he'd like to give mixed martial arts a try. He agreed, but it didn't go well. He was knocked out in 38 seconds by Bernard Ackah, then tested positive for elevated levels of the steroid epitestosterone. His debut and his retirement were a day apart.
Now, Morton is on to other ventures. He started a beverage company built around his own invention, an anti-hangover drink.
Marinovich is finally getting to enjoy his first love, art. He was a fine arts major at USC before he left after his junior year. The Los Angeles Raiders took him in the first round of the 1991 draft, but he only lasted two seasons in the NFL. He sells paintings, drawings and sculptures at toddmarinovich.com.