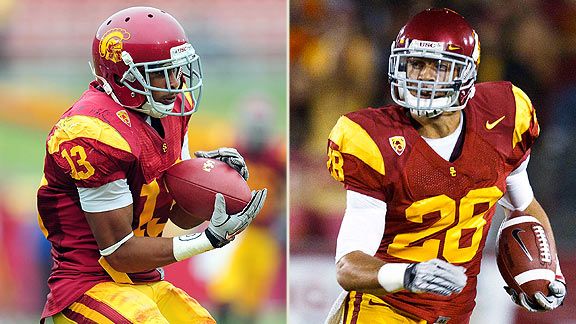 US Presswire
Robert Woods, left, and Dillon Baxter have so far taken different paths during their first year at USC.
Ask any parent with older kids. Some teenagers never grow up. They just turn 20. Others are 18 going on 35.
The fate of the USC football team this season has in no small part risen and sunk with the actions of two true freshmen. Tailback Dillon Baxter made virtually every mistake he could make on his way to a disappointing first year. Receiver Robert Woods set himself up for instant stardom by showing up ready to work.
Nobody knows where their careers are going to go from here, but they've begun by walking down wildly different paths from day one.
One up: Robert Woods
Back in the long, hot days of early August, USC coaches started running into Woods in the courtyard at Heritage Hall. He'd be sitting at a picnic table, his playbook cracked open, staring at the pages.
You could easily mistake it for false hustle. Maybe he planted himself there, hoping the coaches would see him.
But it showed up on the field. There was no mistaking it. By the time the team started game-planning for Hawaii and the opener, Woods' grasp of his position was so far ahead of the other two freshmen receivers, he gained a crucial early edge. He started that first game and, by mid-season, he had established himself as Matt Barkley's go-to guy.
He is the first USC freshman since Dwayne Jarrett in 2004 to have consecutive 100-yard receiving games. He torched Stanford for 224 yards and three touchdowns and Cal for 116 and two. He leads the Trojans with 62 catches.
People who have known Woods a long time weren't surprised. He's a rare combination of talent and dedication. His father, Robert Woods Sr., has seen it for about 18 years. He said Woods would come home from Serra High and get straight to his homework. He didn't watch a lot of TV.
"He has goals in life and he wants to reach them," Woods Sr. said. "So far, so good."
Woods' production has ebbed in recent weeks, in part because of deteriorating play at the quarterback position and in part because of the physical grind of playing a three-month season with older, bigger players. Woods had to be hospitalized a month ago after the pain in his back became so intense that he began vomiting one day after practice.
"You're definitely putting a toll on your body, but it's getting close to the end," Woods said. "I've just got to make it through and finish."
Heading into Saturday's game against archrival UCLA, Woods seems to be regaining his dynamic form. He caught nine balls for 87 yards against Notre Dame, including two clutch catches in USC's final drive. It ended badly when senior Ronald Johnson dropped a sure touchdown and senior Mitch Mustain threw an interception that effectively ended it.
As this season has gone on, Woods has heard fewer and fewer cracks about his age.
"They would say stuff like, 'Watch out, punk,' " Woods said. "Since then, they've been pretty good with the freshman stuff."
One down: Dillon Baxter
Around the time Woods was winning a starting role, Baxter was violating team rules and getting suspended for the Hawaii game. Things never got much smoother. A month later, he admitted he wasn't giving full efforts in practice. Coaches fretted publicly about his lack of dedication in the classroom.
But the big mistake came a couple of weeks ago, when he accepted a ride in a golf cart from a fellow student named Teague Egan. That other student happened to be an agent certified by the NFL Players Association. Baxter had graduated from putting his young career in jeopardy to putting the entire USC athletic department -- laboring under NCAA probation -- in peril.
It cost him one game of eligibility, against Oregon State, and a $5 donation to charity. It cost him more than that in trust points with the coaches and administrators.
Coach Lane Kiffin summed up Baxter's first year by saying, "A lot of distractions, a lot of poor decisions."
Baxter is the Trojans' third-leading rusher with 258 yards. He's their ninth-leading receiver with 73 yards. That's not the production they were looking for from their fastest, most elusive running back.
"I wouldn't have guessed we'd be here, going into our last game, and he'd have one touchdown," Kiffin said. "Obviously, there have been times we haven't given him a lot of opportunities for obvious reasons, but yeah I would say it's been a disappointment for a guy who was the national high school player of the year last year."
To write off a talented player who just turned 19 would be foolish, but Baxter's leash seems to shrink by the week. The pressure could mount. He said it feels like, "all eyes are on you even when you don't think so."
"It was mainly just a learning experience, really, with everything that's gone on," Baxter said. "You just have to learn and keep going and not give up."