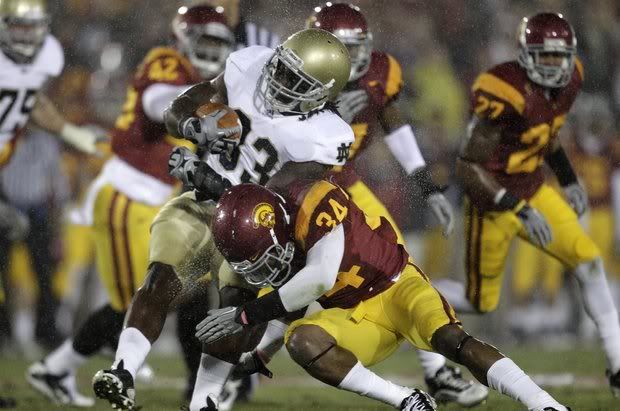 Associated Press
Safety-turned-cornerback Tony Burnett saw his first significant action as a Trojan in a November loss to Notre Dame. He seized control of a starting spot this spring while balancing track and football.
He attempted to complete the task six times, did so only once, and, yet, his day was deemed a success.
Yes, there were some outside circumstances when USC long jumper-turned-safety-turned cornerback Tony Burnett attempted to make his return to the track last week after spending five weeks with the football team in spring practice. The redshirt junior had sprained his ankle during the second-to-last Saturday scrimmage of the spring -- he had an ugly collision with quarterback Matt Barkley during 11-on-11 drills -- and sat out the last week of the spring with a boot on his left foot.
Two weeks and a day later came the USC-UCLA track and field dual meet, an annual tradition between the crosstown rivals. Burnett, in his second season with the track team, has been a regular competitor for the Trojans in the long jump and the triple jump, and a potential scorer in each, meaning his health and availability was a matter of some significance.
He couldn't walk 20 steps without showing signs of an imbalanced stride, but Burnett, a Watts native who arrived at USC exclusively as a track participant and found his way onto the gridiron by virtue of a chance meeting with Ed Orgeron in the Heritage Hall lobby, decided to compete anyway. He was granted six possible attempts, three each for the long jump and triple jump.
All but his second attempt in the long jump were counted as faults, and he finished sixth there while not placing in the triple jump. The 6-1, 195-pound Burnett couldn't get enough strength out of the left ankle to lift off appropriately, and his run-ins weren't at full speed.
He was upset immediately after the competition, heading out after the triple jump concluded to see a doctor about the ankle and missing the dramatic 4x400 relays that concluded the meet. But after a compliment or two from head track coach Ron Allice and jumps coach Mike Pullins, he realized he could be proud that he tried to compete, regardless of the outcome.
"Here's the thing about the dual meet," Burnett said last week following the event, "originally I had four points of pain in my ankle. [Sunday] I only had one, which was good. But the bad thing was that the three that weren't hurting were in the front and the last one still hurting was in the back, so every time I tried to push off my toe it created the pain there.
"That was the big issue there."
The big issue now for Burnett is getting healthy for this weekend's Pac-10 Championships in Tucson, Ariz. The Trojans depart Thursday for the desert, meaning he has roughly 72 hours to get his ankle entirely right.
If he passes that test, he then has two more weeks before NCAA regionals in Eugene, Ore. Two weeks after that is the NCAA championships in Des Moines, Iowa, coinciding with the start of offseason summer workouts for the football team, which he'd like to participate in.
Track takes priority for Burnett, in that situation at least. He often talks about maintaining a sense of loyalty to the sport that recruited him from the JC ranks and gave him his first chance to succeed at USC. He also talks about the natural differences between the two sports.
Exhibit A: An ankle injury such as the one he nursed last Sunday was something he might have been able to fight through in football, where running at less than full speed is often acceptable and even the right thing to do. That's rarely true in track -- at least not in Burnett's jumping competitions.
"Some plays don't ever start in football," Burnett said. "Other plays last two or three seconds. There's not too many times where you're going full speed unless it's a big play or they're trying to throw behind you or something.
"In track, you're going full speed in everything you do."
Well, trying to, at least.